So I heard through the grapevine about Georgetown Cupcake, located on Potomac Street NW (across from Dean & Deluca). I finally made my way over there a couple months ago, and I've been hooked ever since! Though the space is very small (sometimes you have to wait outside for your cupcakes), including only one table, this sister run cupcake-palace it worth it, especially now that they have daily and monthly schedules on their website! They also serve cafe drinks here (coffee, tea, etc) and the staff is super helpful. You can almost see the cupcakes being baked in the back, and if you don't know what to get, they're more than happy to share their favorites. I'm slowly trying to taste every one of their flavors, but their seasonal flavors keep evading me (blueberry coffee cake, cherry blossom, carrot cake, independence day).
They are most famous for pre-ordering (people buy these by the dozens for their friends, office mates, parties, or their children). The only bad thing is that the smallest box is for 4 or 6 cupcakes, and you have to pay for single cupcake boxes ($0.50 each). Other than that, a short walk across the key bridge can result in disaster (depending on your pace and packaging) in the form of smushed cupcakes or mixed flavors. Though these cupcakes are very moist and super yummy, sometimes there is just a little bit too much frosting on it for me, so I wipe it off.
Recommended flavors: Summer: Lemon Berry, Key Lime Everyday: Mocha, Lava, Chocolate Ganache, Chocolate Squared
Score was updated after visiting Hello Cupcake in September 2008.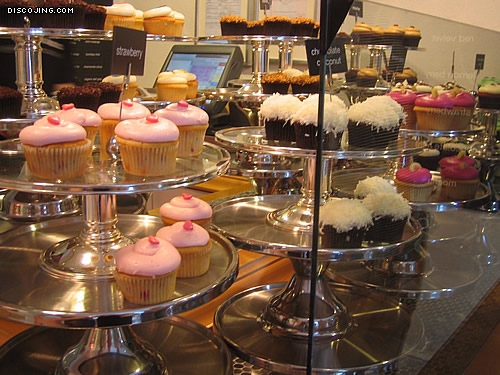 From the Washington Post 'Cupcake Wars'

About: Sisters Sophie LaMontagne and Katherine Kallinis quit their jobs last year to open this business on Valentine's Day 2008, creating such a sensation that they now sell thousands of cupcakes a day (more than 4,000 on Saturdays). 1209 Potomac St. NW, 202-333-8448; » More About Georgetown Cupcake

The Range: A dozen varieties when we visited, including all four permutations of chocolate/vanilla, plus triple chocolate, chocolate ganache, lemon blossom, mocha, coconut and caramel apple (a special September seasonal flavor that will return in November).

Price: $2.75 each, $15 for six, $29 for a dozen.

Size: Smallish, with just the right amount of frosting. (Average weight: 3 ounces.)

How do they taste?: Wow! These are the Nadia Comanecis of the Cupcake Wars: cute, diminutive and the first to get scores of 10. Not all of them, of course; we liked the vanilla cakes less, and we weren't too crazy about the coconut, but most of the others had us using descriptions such as "dreamy," "creamy," "bright" and "sensational."

Best of the Bunch: Chocolate Squared was so moist, with deep chocolate flavor in both cake and fudgy frosting, that one taster wrote, "I'm not even a huge chocolate fan, and that is a perfect chocolate cupcake." (Score: 9.8 out of 10.)

Price Per Ounce: 86 cents