On our second attempt to visit Jaleo (because apparently they are closed on Mondays), we were finally able to enter the doorway. We visited the location in Crystal City, but there are two other ones (Bethesda, Downtown DC).
I love the high ceilings here (in fact, I think it's a Crystal City trend), and it has an indoor cafe feeling–complete with LIVE music. It was a little loud at first, but as I got used to it, it really added to the atmosphere.
Jaleo has an impressive wine selection (unfortunately, I don't care that much for wine), so I opted for some special mixed drink (mojito lemonade I think) that I had to send back for some more lemonade because it was too strong. There were many great sounding things on the menu, but I didn't know many of the ingredients, and the menu reads like it is in Spanish (similar to Lupa's in NYC, but with Italian). We got several dishes, and the amount of food was not always relative to the price. Some dishes we ordered: Pan con tomate (Toasted slices of rustic bread brushed with fresh tomatoes), Chistorra envuelta en patata frita (Slightly spicy chorizo wrapped in a crispy potato), Codorniz con salsa de romero y alioli con miel (Grilled quail with rosemary sauce and honey alioli), and Calamari with garlic alioli, though other tapas staples such as bacon wrapped dates, or slightly unusual "pork cheeks" sounded good. Jaleo, staying true to it's Spanish roots, is also famous for it's paella, and has several varieties in house, similar to pizza at an Italian restaurant.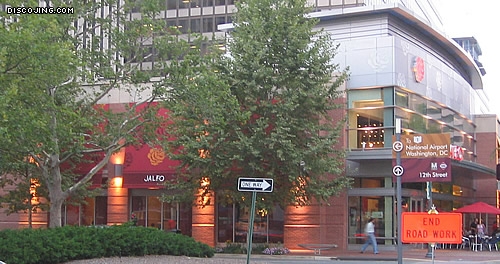 From Zagat:

Invite your amigos to "nibble the evening away" on "tantalizing", "imaginative" yet "authentic" Spanish tapas with "never-ending sangria to wash it all down" at this trio of "crowd-pleasers"; they're a "loud", "chaotic" "fiesta", especially if there's flamenco dancing, and they're among the "few places where 'small plate does not equal 'large bill'"; P.S. beware of "long waits", as they take only a limited number of reservations.

Food: 23, Decor: 20, Service: 19, $33

Penn Quarter (480 Seventh Street NW & E. Street 202-628-7949), Bethesda (7271 Woodmont Avenue & Elm Street, Maryland 301-913-0003), Arlington (2250A Crystal Drive & 23rd Street, Crystal City Metro, Virginia 703-413-8181)