I figured that, in order to partake in this "Cupcake War" happening in the Washington Post, that I'd have to stray from my top-seeders and try some of the other local cupcake flavor. I've tried Couture Cupcakes twice. These cupcakes, from a wedding caterer in Maryland, are sold at two places in the District: Cafe Tu-o-tu in Georgetown and ACKC Cafe in Logan Circle/Alexandria (there are two locations).
First taste was the "Sophie", a chocolate cake topped with a cookies & creme buttercream frosting. Of course, this description was on their website. If you walk into Cafe Tu-o-tu, you have to ask about the cupcakes. They say this one is an "oreo" cupcake with no mention of its makers. This cupcake had an under-whelming frosting (I expect much out of my frostings after Baked & Wired, Georgetown, and Hello). and the cake was so dry. I hate to say this, but the cupcake was so bad that I couldn't even finish it–half of it went to the birds.
Now, I thought that this was might, might, be attributed to the fact that the cupcakes were sitting on un-covered trays by the register for who knows how long. So I made it my mission to visit ACKC (a formidable hike from the Dupont metro) and see whos fault it was: cupcake or re-seller.
ACKC itself is an amazing place (and will have its own review soon), but I was also let-down by the cupcakes here. No excuses here since the cupcakes were fresh from the back in closed boxes and were then transferred to a closed plastic container. The flavor options here were more expansive, and I settled on the "Bella Lucia" (vanilla cake with Nutella center topped with a stracciatella Buttercream) and the "Mrs. Kimery" (pumpkin spice cake with pumpkin spice cream cheese frosting). I chose these two because I love stracciatella and Nutella and have been having my own Pumpkin Spice and Carrot Cake Cupcake Battles on the side. Like Cafe Tu-o-tu's "Sophie", the "Bella Lucia" went half/three-fourths un-eaten and went into the trash. The frosting was like nothing I had ever tasted–it had the consistency of lotion, and did not taste like the yummy stracciatella truffles that I often find myself craving in the winter months. The nutella center was quite lacking, and all around it was dry dry cake that grated against my tongue. I had to wait until today to eat the pumpkin cupcake, and it wasn't any better. While the cake was moister, the frosting was worse! The cake had no particular flavor and the frosting tasted chemical-esque, like soap. I kept expecting my mouth to be filled with the great wonderful fall flavors of cinnamon, nutmeg, pumpkin, and cream cheese that is all a pumpkin spice anything should be, but it never was. This cupcake was also un-finished.
Unfortunately, the descriptions of all of CC's cupcakes are amazing. I dont know what goes wrong between the thinking-up and baking steps of the process, but there IS something wrong. I would be ashamed to have these cupcakes catered to my wedding/shower/birthday, and would rather eat Costco sheet cake anyday!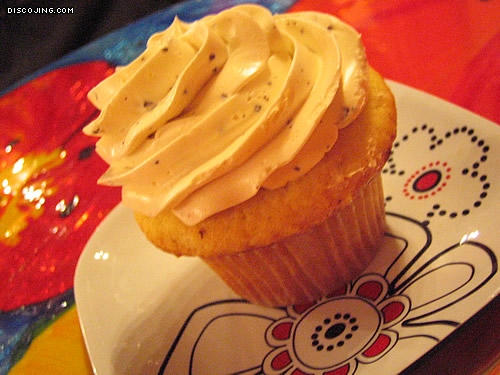 From the Washington Post 'Cupcake Wars'

About: Paola Domenge started this Potomac-based venture as a hobby with her mother, Silvia, but formalized it as a business in April. At a leased kitchen in Gaithersburg, they bake primarily custom orders and sell at two cafes in the District: ACKC in Logan Circle and Cafe Tu-o-Tu in Georgetown. 301-926-7333; www.couture-cupcakes.com. ACKC, 1529C 14th St. NW, 202-387-2626; www.thecocoagallery.com; ACKC Alexandria, 116 E. Del Ray Ave., Alexandria, 703-635-7917; www.artfullychocolate.com; Cafe Tu-o-Tu, 2816 Pennsylvania Ave. NW, 202-298-7777; http://www.cafetuotu.com

The Range: We bought the cupcakes at ACKC, where the selection is wider than at Tu-o-Tu, and there were six varieties: lime, red velvet, vanilla/Nutella, Boston cream pie, chocolate/raspberry and brownie.

Price: $3.50

Size: Standard, with the perfect amount of frosting. (Average weight: 3.4 ounces.)

How do they taste?: For the most part, these were very nicely done, with creamy frostings, moist cakes and vibrant flavors. The vanilla cakes tended to be on the dry side, and the brownie cupcake was gummy and underdone, but many of the others won us over.

Best of the Bunch: Red velvet (a.k.a. Savannah, shown above), with a beautiful deep color and light cocoa flavor, topped with a truly lovely cream cheese frosting, was just about everything a cupcake should be. (Score: 8 out of 10.)

Price Per Ounce: $1.01