Disclaimer: I was invited back by the owner after my 2010 review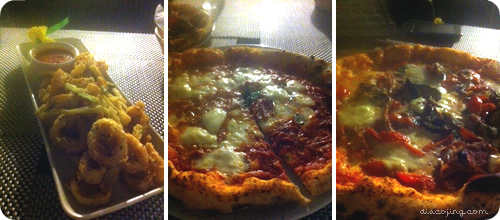 We visited on a Tuesday night (11/15) and had a great experience. Our waiter, Rohit, was very knowledgeable about every aspect of the food and structure of the restaurant. He knew how every dish was made and where all the ingredients were sourced, down to the ingredients in the olive oil! The service was excellent and he had great recommendations for pizza and appetizers. After our meal, he offered to give us a tour of the pizzaiolo's working space, but no pizzas were in the queue at the moment.
We tried the calamari again; there was a better ratio of zucchini to calamari and the plate came out piping hot. Though the zucchini was a little watery, the texture of the breading and calamari more than made up for it. The sauce was also more flavorful and paired well with the fried morsels. We also ordered two pizzas, the Il Canale and the Diavola. The Il Canale had a perfectly crunchy crust and the toppings were flavorful. My favorite part of the pizza was actually the tomato slices that burst with a great flavor–and I don't really like tomatoes! My only concern was that after I finished eating one slice of pizza, the rest of the pizza had basically turned to mush because of all the cheese and veggies. The softened crust mixed with the moist ingredients melded together and lacked textural contrast. Maybe a quick zap in the toaster oven at home will revive the slices? The Diavola didn't skimp on the ingredients and while the crust wasn't as crunchy, each bite was still flavored well with the salami and cheese. We didn't have room to try dessert, though we were eyeing the tiramisu.
I'm glad I visited again–I can tell that the ingredients, processes, and service has all been changed. But, I just don't like soupy pizzas, so I will probably not be back again.
A few things: there was a guy going around selling roses, which made us feel uncomfortable (especially since they were so expensive!). There were also several times that a server tried to bring us other people's food, or give our food to the wrong table and we had to flag him down. Other than that, the rapport with Rohit and the host was great and the weather outside was refreshing.