Vot­ing for the Marx Foods Silere Alpine Merino Lamb Review Con­test is open until
March 1st
. If you'd like to vote please
visit the poll
.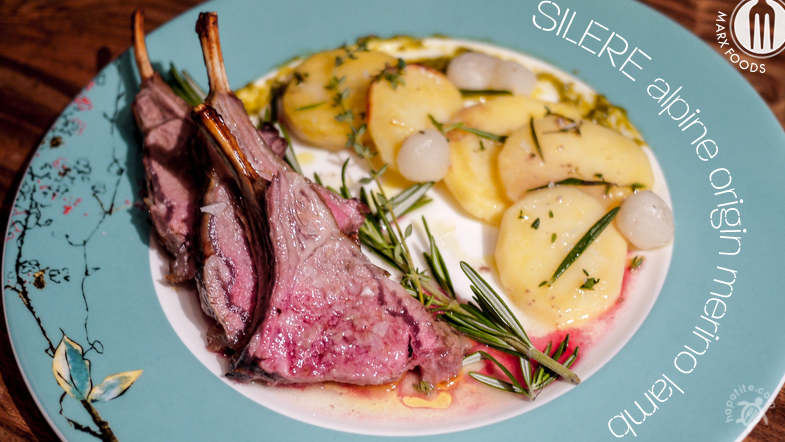 Lamb is one of my favorite foods to eat, but it's intim­i­dat­ing for me to even think about cook­ing at home. I've heard peo­ple com­plain that it smells and heard hor­ror sto­ries of too rare or burnt messes.
That's why I was glad to receive some lamb in the mail from Marx Foods to pair with a tried-and-true sim­ple recipe from some­one I know.  I went all in and tried the scari­est seem­ing cut: frenched racks.
This recipe, from one of my favorite chefs José Andrés, comes from his cook­book Made in Spain: Span­ish Dishes for the Amer­i­can Kitchen which is paired with his PBS tele­vi­sion show. It only has a hand­ful of ingre­di­ents and is very straight for­ward so that the lamb itself can shine. Fin­ish­ing with pyra­mid salt added a nice crunch, espe­cially when paired with a smear of pesto.
The lamb itself was seared to a juicy, caramelized crunch and cooked to an inter­nal tem­per­a­ture of 130°F. The meat, after rest­ing a few min­utes, was silky, moist, and lean. There was no off-putting smell prior, dur­ing, or after cook­ing — in fact, it tasted fresher than I ever knew meat could smell.
For those that haven't tasted much lamb before, it tastes sim­i­lar to beef, but lighter, cleaner, and less fatty, almost like veni­son. As the meat cools you can actu­ally taste the fla­vor of the lamb more.
About  the Lamb
Now, this lamb is not the same as aver­age super­mar­ket lamb. Alpine Ori­gin Merino roams free on moun­tain pas­tures in New Zealand, graz­ing on grasses & alpine herbs. Because of this, the meat has a lighter, less gamy fla­vor and is more evenly marbled.
Thank you Marx Foods for the oppor­tu­nity to taste this amaz­ing lamb and to try my hand at mak­ing it myself! Stay tuned for a recipe involv­ing Lamb Loin Fillets.
Roasted Lamb Rack with Potatoes

By Feb­ru­ary 21, 2015
Pub­lished:
Prep: 5 mins
Cook: 40 mins
Ready In: 50 mins
From José Andrés' Made in Spain.
Ingre­di­ents
Instruc­tions
Pre­heat the oven to 450°F.
Toss the potato slices, gar­lic, onions, rose­mary, thyme, and 1 table­spoon of the olive oil together in a mix­ing bowl. Spread the mix­ture in a large roast­ing pan, sea­son to taste with salt, and bake in the oven for 10 minutes.
While the pota­toes roast, heat 1 table­spoon of the olive oil in a large sauté pan over medium-high heat. When the pan begins to smoke, add the lamb racks and brown about 2 min­utes per side.
Remove the pota­toes from the oven and pour the wine over them. Arrange the lamb racks on top of the pota­toes, lean­ing them against each other to form a tri­an­gle. Return the pan to the oven and cook for another 20 min­utes or until the lamb mea­sures 130°F on a meat ther­mome­ter. Trans­fer the lamb to a cut­ting board to let rest for 5 minutes.
Slice the racks into chops and divide them among 4 plates. Spoon the pota­toes, onions, gar­lic, and herbs onto the plates. Driz­zle the lamb with the pan juices and the remain­ing table­spoon of olive oil. Sea­son to taste with salt.