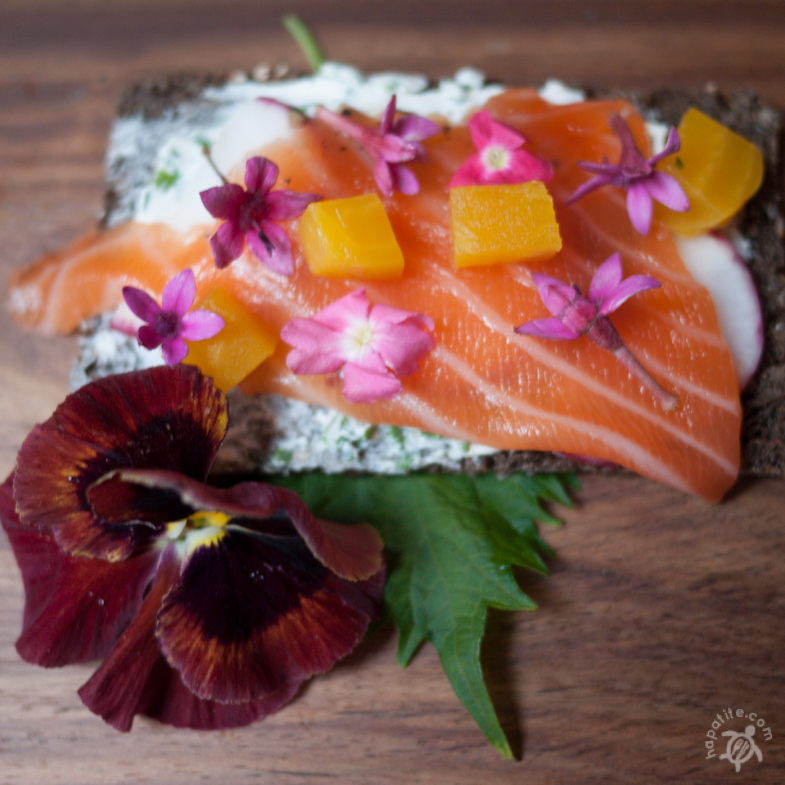 Today is my husband's birth­day! Ear­lier in the month we received some lovely edi­ble flow­ers from Marx Foods as part of their Edi­ble Flow­ers Pho­tog­ra­phy Chal­lenge.
About edi­ble flowers:

Nas­tur­tiums – Nas­tur­tiums have a pep­pery fla­vor which lends well to just about any savory dish.
Pan­sies – Pan­sies have a mild semi-sweet win­ter­green fla­vor that pairs well with both sweet and savory dishes.  They float flat in liq­uids, too, which can make them extra fun to exper­i­ment with.
Micro Flower Blend – a blend of tiny flow­ers that varies with what's fresh­est at the farm.  This blend typ­i­cally includes flow­ers like Micro Marigolds, Sun Daisies, Dianthus, White Mums, Bach­e­lor But­tons, Micro Orchids and/or Starflow­ers. Some of the flow­ers in the micro blend can be bit­ter, but the blend can be used in many ways.
We had a great time vis­it­ing the local mar­kets and pick­ing up some arti­sanal ingre­di­ents to pair with these beau­ti­ful flow­ers. We couldn't set­tle on just one way to use them so we came up with a few dif­fer­ent uses and had an pic­nic this past Sat­ur­day while din­ing al fresco on our balcony.
Smoked  Salmon  Toasts  with  Edi­ble  Flowers
My first idea was to pair the flow­ers with jewel-like salmon. I usu­ally don't like cured or smoked salmon, but I did my research and vis­ited a place that spe­cial­izes in smok­ing meats, Neopol Savory Smok­ery. They had sev­eral dif­fer­ent types of salmon so we took home the tra­di­tional, Thai, and Green Tea smoked salmons. The salmon was lay­ered on top of some toasted rye bread, cream cheese we mixed with chives, and topped with pick­led golden beets and edi­ble micro flowers.
Rhubarb  Mac­arons  with  Edi­ble  Microflow­ers  and  Lemon  Curd  Filling
I had orig­i­nally planned to make some earl grey made­lines dec­o­rated with microflow­ers, but I could not find my made­line pan any­where! I must have been crazy because I decided to take a crack at mak­ing mac­arons for the first time ever! I found this excel­lent resource for mac­arons on brave tart that not only said I didn't need to age my egg whites, but had very spe­cific instruc­tions for every step along the way.
After adding a dash of rhubarb syrup to the mix, I piped the mac­arons and topped them with the flow­ers before bak­ing. Some didn't develop the mac­aron "feet", but they were all deli­cious! I filled most with lemon curd but some were extra lucky and were filled with cookie butter.
Avi­a­tion  Cocktail
Flow­ers go extremely well with this crisp, flo­ral, and refresh­ing cock­tail. This drink is easy to make with only a few ingre­di­ents, and it seems to be great in the win­ter or the spring! You can get the recipe, which is from the PDT cock­tail book, here.
Earl  Grey  Cake  with  Elder­flower  Cream  Cheese  Filling
I wanted to use the larger flow­ers in an edi­ble capac­ity as well. I can­died some pan­sies since they have a sweeter pro­file than nas­tur­tiums. I lined a pan with pre­served cherry blos­soms and micro flow­ers then poured an earl grey cake bat­ter over them. Like sweet sushi, I lined the cake with cream cheese fill­ing fla­vored with some elder­flower syrup, then added a layer of fresh pan­sies. I rolled the cake up and chilled it overnight. After slic­ing the cake I topped it with pieces of the can­died flowers.
I brought this cake into work and every­one loved it! Some were a lit­tle wary of the flow­ers, but some ate the can­died flow­ers whole and even had sec­onds of the cake.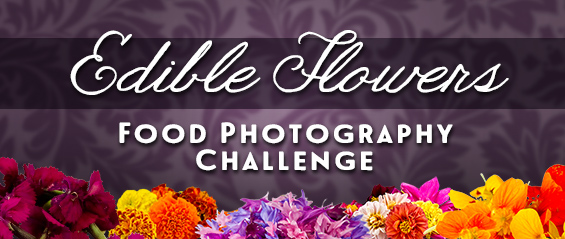 Thank you to Marx Foods for send­ing me these amaz­ing flow­ers to play with! I am par­tic­i­pat­ing in the Edi­ble Flower Pho­tog­ra­phy chal­lenge — vot­ing is through their insta­gram so head on over to see the other entries start­ing 5/5!