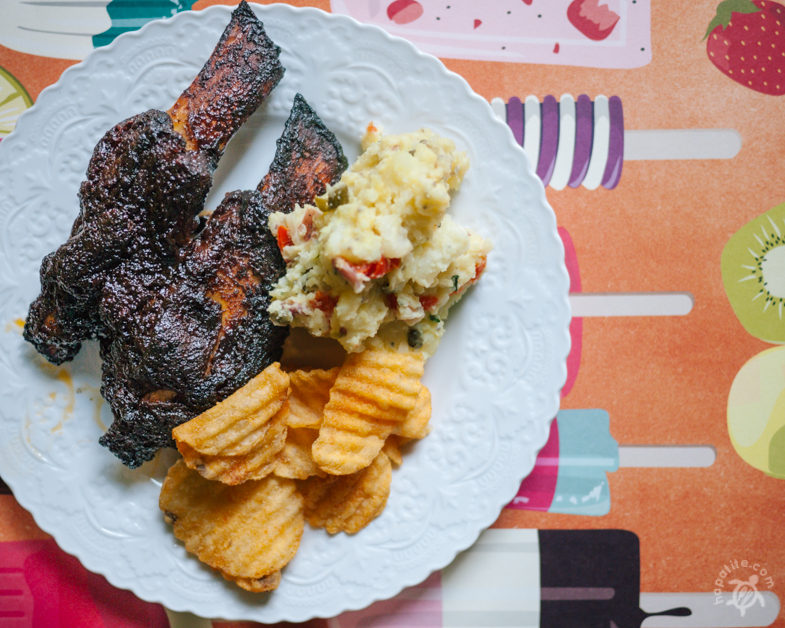 For this month's Secret Recipe Club I had the honor of being paired up with the owner, Sarah of Fan­tas­ti­cal Shar­ing of Recipes.  Sadly, it won't be a sur­prise that I had her blog since she sends out the assign­ments, but hope­fully I can sur­prise her with what recipe I chose from her mas­sive list.
I combed through her recipe index, paus­ing on Almost White Cas­tle Burg­ers, Faux­tis­serie Chicken, Dulce de leche Cheese­cake Bars. My hus­band helped me decide on Slow Cooker BBQ Ribs since we had been crav­ing some ribs and he's always a sucker for bar­be­cue sauce.
We recently pur­chased a slow cooker, so have been look­ing for new ways to use it. Unfor­tu­nately, we have the small­est Crock-Pot in exis­tence so we have to be care­ful when read­ing recipes. We made ⅓ of the recipe and it fit per­fectly into a 3 quart pot. It was hard to find only 2 pounds of ribs but our local gro­cery store luck­ily had smaller por­tions pre-packaged.
These ribs turned out finger-licking-good (lit­er­ally). The meat fell right off the bone and the charred bits from the broiler were my favorite part. Served with chips or smashed pota­toes, I was trans­ported to a out­door sum­mer pic­nic (while still sit­ting in my air-conditioned din­ing room.

Slow Cooker BBQ Ribs Recipe

By nicole Pub­lished: June 22, 2015
Yield:

2 pounds (2 Servings)

Prep:

5 mins

Cook:

6 hrs 0 min

Ready In:

6 hrs 35 mins
Ingre­di­ents
Instruc­tions
Mix together spices and rub on ribs. You can make it as spicy or sweet as you like, the main fla­vor will be the bbq sauce.
Place the ribs in your slow cooker so that the meat side is touch­ing the sides of the bowl. Pour bbq sauce on top and cover. Cook on low for 6 to 8 hours.
Pre­pare your broiler pan with alu­minum foil and cook­ing spray. Remove ribs and place meat side down.
Pour some of the liq­uid from the slow cooker into a small saucepan. Sim­mer for about 15 min­utes or until thick­ened. Salt and pep­per to taste.
Brush ribs with sauce and broil for 2 to 4 minutes.
Flip the ribs and brush with more sauce. Broil that side for about 10 min­utes, coat­ing with more sauce about 3 more times.
Remove from oven. Tent with foil and let rest for 10 minutes.