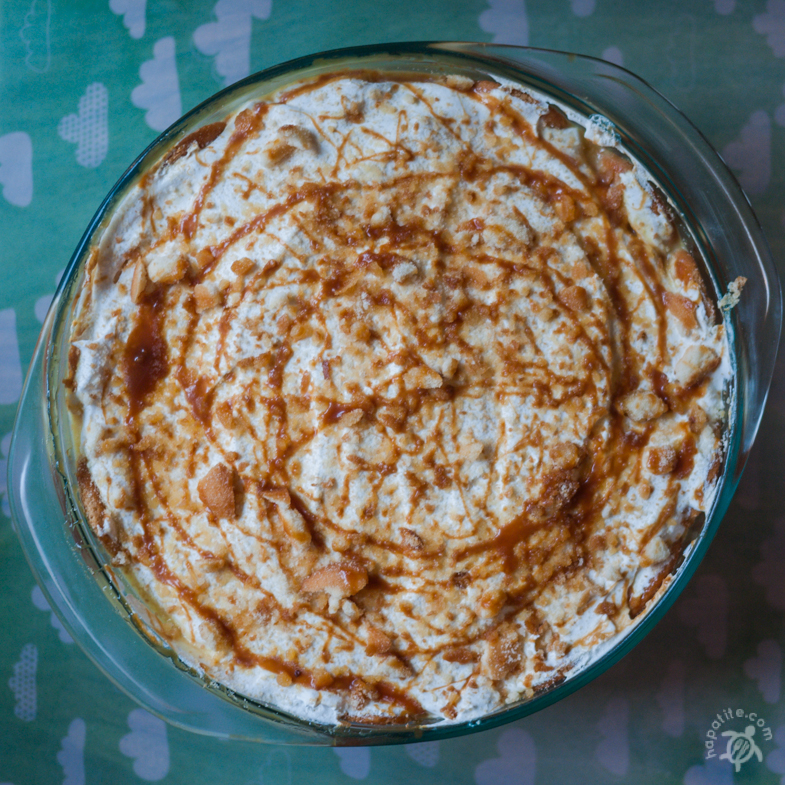 Banana pud­ding holds a spe­cial place in my heart. It was one of the first things I made with my hus­band when we were dat­ing. It's incred­i­bly easy to make and there is almost no way to make it not taste delicious.
That's why when I was assigned Wendy from "A Day in the Life on the Farm" for this month's Secret Recipe Club, my deci­sion was easy. Wendy and her hus­band Frank are retired police offi­cers that escaped the city and live on a 12-acre farm. She made this pud­ding for brunch after Christ­mas which reminded me that it's a great crowd pleaser. It fit the bill per­fectly for my brother-in-law's girl­friend that was vis­it­ing from out of town for a din­ner party at our place.
It's impos­si­ble not to like banana pud­ding! It's absolutely deli­cious. To ele­vate it a lit­tle bit more I driz­zled some salted caramel sauce on top. I served these in high­ball glasses as dessert. I can also attest to the fact that they are good in the morn­ing because I ate all the left­overs for break­fast the next day — Wendy was smart serv­ing this at brunch!

Banana Pud­ding Recipe

By nicole Pub­lished: July 27, 2015
Yield:

14 Serv­ings

Prep:

5 mins
From A Day in the Life, Kraft
Ingre­di­ents
Instruc­tions
Place vanilla wafers in bot­tom of serv­ing dish mak­ing a sin­gle layer. Cut bananas into slices. Layer half the sliced bananas over the cookies.
Whisk together pud­ding mix and milk for 2 min­utes. Pour half of the unset pud­ding over the wafers and bananas.
Repeat the layers.
If mak­ing whipped cream: Using a stand mixer with whisk attach­ment, beat the cream to semi stiff peaks. Top pud­ding with cream.
Refrig­er­ate for at least one hour. Gar­nish with addi­tional cook­ies right before serving.