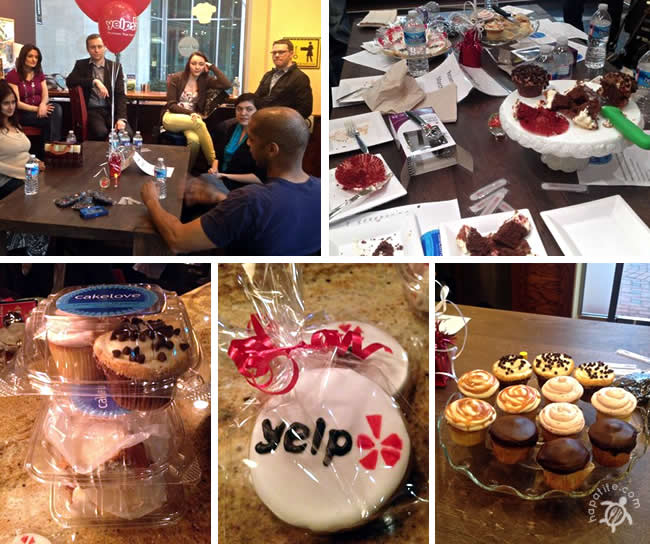 Last week I met with War­ren Brown via a Yelp event at the Shirling­ton loca­tion of his bak­ery empire, CakeLove, for a cup­cake tast­ing. The cat­a­lyst for this cup­cake tast­ing was that in the last 6 months, CakeLove had been lis­ten­ing to cus­tomer feed­back and re-doing some of their recipes (See: My orig­i­nal review for CakeLove, the Tysons loca­tion). We were offered around 8 dif­fer­ent types of cup­cakes, a slice of straw­berry short­cake, and a deli­cious sugar cookie.
I can really tell that the cup­cakes have changed for the bet­ter (except the choco­late cake, which is still a bit lack­ing in fla­vor and mois­ture). The cakes are lighter and the frost­ing is more bal­anced. Yay for no more cold, cornbread-y cup­cakes or sep­a­rated frostings!
What I sam­pled, in order of preference:
Cus­tom sugar cookie with icing – Per­fectly soft with a strong hit of cit­rus and vanilla while still tast­ing balanced
Straw­berry on Vanilla – *New* Vanilla cake with Straw­berry but­ter­cream. The cake and frost­ing were both light and moist. Some peo­ple said the but­ter­cream was a bit oily and coated their tongue in an unpleas­ant way; I thought this could have been solved by putting a lit­tle less frost­ing on.
The King – *new* banana cake, peanut but­ter frost­ing, choco­late ganache. Moist and fla­vor­ful cake with a nice sur­prise of peanut but­ter under the ganache cap.
Red Vel­vet – *New* Red vel­vet cake with cream cheese frost­ing. Could use to be a lit­tle moister, but it had a nice crumb and the tang of the cream cheese frost­ing was refreshing.
Tof­fee Crunch on Choco­late – choco­late cake, cream cheese (?) frost­ing, crunchy tof­fee top­ping. The frost­ing paired with the crunchy top­ping was a bit too sweet, but I enjoyed the tex­tural con­trast. Even though the choco­late cake was a bit too lack-luster, the top­ping saved it.
Salted Caramel – *New* Vanilla cake with cream cheese (?) frost­ing and salted caramel driz­zle. The fla­vor bal­ance of this cup­cake was a bit too far on the sweet site.
Choco­late Chip Cheese­cake – choco­late cake, cream cheese frost­ing, choco­late chip & gra­ham cracker ganache. The frost­ing, topped with choco­late chips and dusted with gra­ham cracker crumbs are good, but the cake lacks a deep choco­late fla­vor and is light brown.
Choco­late Fuzzy Wuzzy – choco­late cake, choco­late but­ter­cream, choco­late curls. The same issue as the other choco­late cakes, but the frost­ing is a bit too soft and reminds me of super­mar­ket frost­ing. The choco­late curls on top did offer a good tex­tural contrast.
Straw­berry Short­cake – lay­ered pound cake, vanilla but­ter­cream, fresh straw­ber­ries. The but­ter­cream was too chem­i­cally tast­ing, but other than that, was just okay.
The choco­late cake hasn't been re-worked yet, so that's why they were at the bot­tom of the bracket. I also didn't care for the frost­ing on the straw­berry short­cake, but oth­ers loved it.
I really felt spe­cial sit­ting at one of the 10 spots in the Shirling­ton CakeLove loca­tion lis­ten­ing to War­ren geek out over cup­cake recipe and for­mu­la­tion changes. He seemed to really value our feed­back. It was also inter­est­ing learn­ing about the busi­ness per­spec­tive he has and how he's grown as a busi­ness owner and baker to be able to lis­ten to his cus­tomers and set his own ego aside a lit­tle bit.
I loved being able to share my opin­ions on cakes (I have a lot of them), and be in the audi­ence with fel­low cake lovers!
You also get a lot for your money. I com­pared the cup­cakes in size to one of my green tea cup­cakes, made at home in a stan­dard muf­fin tin, and they're almost dou­ble the size!
Pages: 1 2