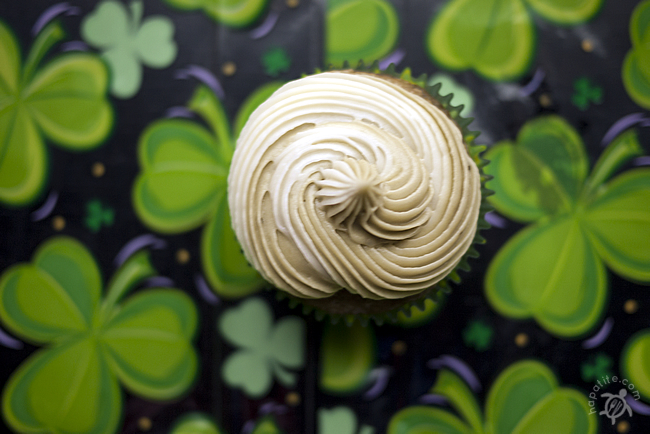 I usu­ally don't do any­thing for St. Patrick's Day other than wear some­thing green to avoid being pinched. This year, the hol­i­day fell on a week­end and a deli­cious recipe popped up in my RSS Feed – these Matcha Green Tea Cup­cakes from Oishii Treats.
I've been want­ing to make green tea cup­cakes for a while, but have been a bit wary. Green Tea is an acquired taste and I was wor­ried how these would go over with my taste testers.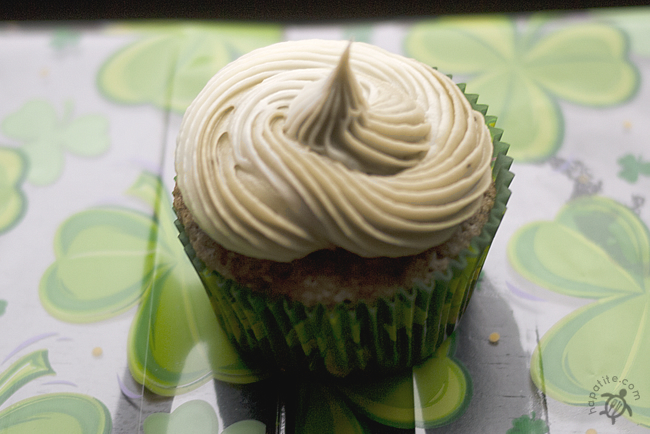 I replaced half of the flour the recipe called for with whole wheat flour, which went well with the earth­i­ness of the matcha, though it prob­a­bly kept the cake from being more green. I also used almond milk instead of reg­u­lar milk. Since green tea is an acquired taste, I opted to swirl the frost­ing so that it'd be half matcha and half reg­u­lar cream cheese frost­ing. This kept the cup­cake from being a matcha-overload while adding a nice flair.
The best thing about these cup­cakes are the smell. I love the way they smelled com­ing out of the oven and when I opened my car­rier up to bring them in to the office. You'll def­i­nitely want to use a nice qual­ity matcha since they're the star ingre­di­ent here. And, this is the way that you're get­ting a dose of green, naturally!
Matcha Cup­cakes with Matcha Swirled Cream Cheese Frosting

By nicole Pub­lished: March 18, 2013
Yield:

24 cup­cakes

Prep:

20 mins

Cook:

18 mins

Ready In:

38 mins
This recipe, adapted from Oishii Treats, is a way to get your green fix naturally.
Ingre­di­ents
Instruc­tions
Pre­heat the oven to 375 degrees. Line 2 muf­fin tins with cup­cake liners.
Com­bine your flour, bak­ing pow­der, salt, and matcha together in a small bowl and set aside
In a elec­tric mixer beat but­ter and sugar together until light and fluffy.
Add the eggs in one at a time until each one is fully incorporated.
Start­ing with the dry ingre­di­ents, alter­nate with the milk in 3 batches until barely incorporated.
Fill your cup­cake lin­ers 3/4 full. Bake for 9 min­utes, then rotate and bake for 9 more min­utes (18 total, or until a tooth­pick inserted in the mid­dle comes out clean).
While cool­ing on a wire rack, pre­pare the frosting.
Com­bine but­ter and cream cheese until no clumps remain.
Add in sugar 1/2 cup at a time until the con­sis­tency and sweet­ness you desire. You can thin out with milk if needed.
Put half of the cream cheese frost­ing in a pip­ing bag. Add matcha pow­der to the remain­ing half until combined.
To get the swirled frost­ing: Put both pip­ing bags in a larger pip­ing bag fit­ted with a pip­ing tip and frost.