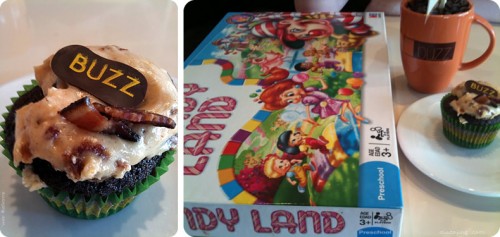 This is an update on my previous post about Buzz Bakery. We'll leave the scores all the same, but I'll share my experience, which I have mixed feelings about.
I returned back to Buzz Bakery August 15th to try their much-famed flavor-of-the month cupcake: Bacon. The bacon cupcake consists of a chocolate cake topped with peanut butter mousse and sprinkled with crisped pieces of thick-cut applewood smoked bacon. Sounds all fine and dandy right? Wrong! This cupcake, touted as the cashier's "second-fave" really leads me to wonder the staff's tastebuds! (re: previous visit & toffee cupcake)
The cake itself just tasted wrong wrong wrong — lighter-fluid-doused kinda wrong. Paired with the frosting that tasted like the chipped gravy poured over biscuits in dining halls, I was turned off. After several bites of disbelief, trying to *force* myself to like this cupcake after all the media it's received, the rest of the 'cake went uneaten. Shame on you buzz, shame.
The trip was redeemed by some awesome Candyland and a glass of fresh, thirst-quenching lemonade. And I know it's fresh because the same guy that sold me the disgusting lard-cake fresh-squeezed it and mixed it in front of me! Mmm Mmm!