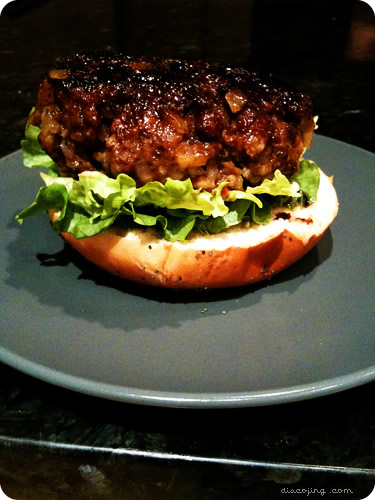 January's Washoku Warriors challenge was Comfort Food. We were given the option of two recipes: Miso Ramen (味噌ラーメン) or Soy-Glazed Burger (てり焼きバーガー). I initially wanted to make the ramen because I have some miso sitting in my refrigerator, but upon further inspection the recipe seemed a little more intensive and had some ingredients that I didn't happen to have on hand. Unfortunately, for the past week I've been buried under feet of snow so I've been limited to what my local organic supermarket has in stock. Plus, burgers are an easy sell to my boyfriend!
I halved the recipe and though the burgers were a little on the large side, there was some left over for bento! I did add a little bit too much onion and didn't mince it finely enough. Other than that, I would have mixed the miso a little bit more into the meat before making patties.
drizzles of vegetable oil
1/2 of a small yellow onion, finely minced
1 tbsp sake
3/4 lb ground beef
1/4 cup panko
2 tbsp beaten egg (about 1 large egg)
1 tsp miso
1 tbps sugar
1/2 tbsp hot water
1.5 tbsp soy sauce
Heat a drizzle of oil in a skillet over medium-low heat. Add the onion and sauté until wilted and slightly aromatic but not browned. Add 1 /2 tbsp of sake and deglaze the pan, scraping up any browned bits. Remove the pan from the heat and allow the onion to cool to room temperature.
As the onions cool, combine the beef, panko, egg, and miso into a separate bowl. Add the cooled onion and knead until evenly distributed. Divide into equal portions and form patty shape.
Drizzle some more oil into the previously used skillet and place over medium heat. When hot, add the patties and sear on the first side until browned (about 1 minute). Flip and sear the second side, pressing to flatten. Lower the heat, add 1/2 tablespoon of sake, cover, and cook for 8-10 minutes (medium to medium well).
While the burgers are cooking, mix sugar and hot water until combined. Then add soy sauce. Return skillet to high heat, add sauce and move pan around until burgers are evenly covered. Flip the burgers once after a minute to make sure they are evenly glazed.
Plate when still hot, as you like. I chose to eat it open face on half of a bagel with some lettuce. Traditionally, it's served more similar to loco moco style, with rice and the extra sauce served over it.
I really liked the miso in the recipe, but the large amount of onion in the burger made it taste more like meatloaf. I also chose not to put the extra sauce on the patty since I could see all the fat and grease from the meat in it. Not sure if I'll ever make this recipe again, but it's an interesting take on the standard hamburger. Since it's cooked in a covered skillet, it keeps all of it's juices.