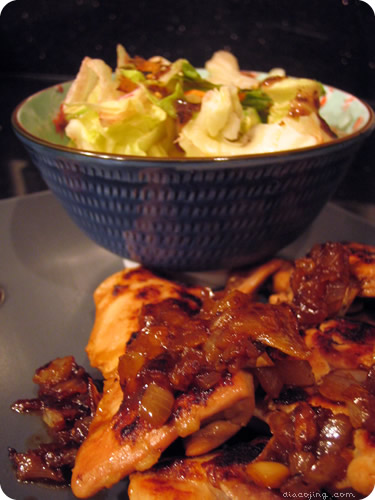 For this month's Washoku Warriors, the theme was vinegar. We had to make Tangy Seared Chicken Wings with the choice to make one or more of the following: Tart Miso-Mustard Sauce, Classic Sweet-and-Sour Sauce, Kelp & Mushroom Relish, and Red & White Radishes. It seems like a lot, but I was actually able to make all of the recipes and also made a vinegar-based Salted Plum Dressing and Enoki Miso Soup.
The image above is the Chicken, Miso-Mustard Sauce, and a salad with plum dressing. There seemed to be a lot of prep work involved in the chicken but I didn't like the flavor profile. I chose to use chicken thighs instead of wings, but our local supermarket only had boneless, skinless thighs. Even though I know all of the ingredients that went into this dish were Asian, the end result tasted like Chicken Marsala. The sauce was was too strong for me, and was mostly miso instead tart or mustard-y. Unfortunately, we both agreed that the best part of this dish was the non-Washoku related salad.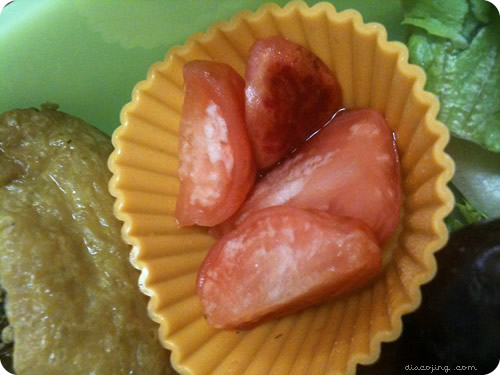 I used the sweet and sour sauce to make the red & white radishes (this is a very versatile recipe!). I chose to use the pink, ume-su based sauce instead of the rice-vinegar and kombu based one. I haven't had an opportunity to try the radishes that much, but I have mixed feelings. I like my radishes smaller and the sauce seemed a bit strong and dirty (maybe from the radishes). I prefer Just Bento's version since it tastes better and is seems easier to make.
I haven't tried the Kelp-Mushroom Relish yet, but I did make it! I tried to make onigiri with it as a filling, but the relish was too wet. I made inari with the relish as a topping and will take a picture and my thoughts later. The relish is a good way to use up leftovers, but I did not like cutting the many squares of kombu. I chose to cut them into half-inch strips, which was tedious when cutting almost twenty squares of seaweed (I halved the recipe). My cutting board got a bit slimy after a while too.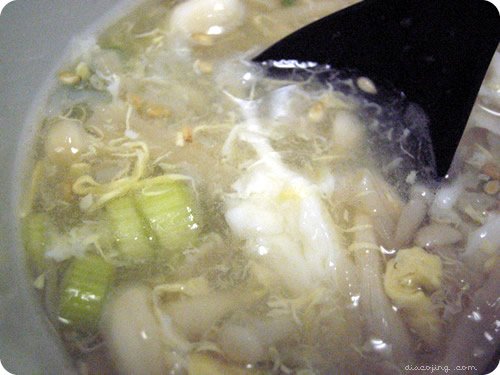 I had full plans to make the soup the way the book laid it out, but my tofu had gone bad! I was just going to use enoki and scallion, but I dropped an egg in for some added protein. I realized I don't like enoki or scallion and the miso didn't dissolve into the soup so I had one nasty bite that was just miso.