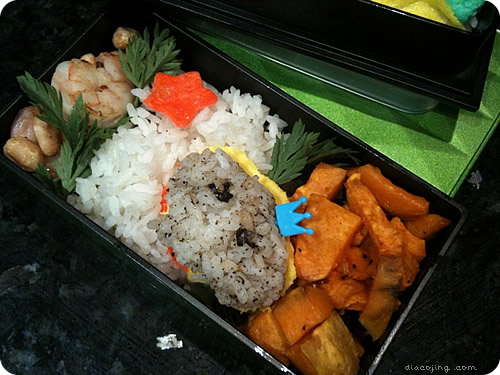 Bento Concept has started another world tour!
Stop #1 is the Central African Republic. Next stop is Russia (3/29), followed by Greece (4/26).
I had never really heard anything about the Central African Republic before this challenge. I did a lot of research and learned about the various types of cuisines, crops, and animals that they have. A lot of the types of food were either time consuming or contained ingredients hard to find or out of season here. I made some shrimp with peanuts, rice, an elephant out of rice mixed with ground sesame seeds, roasted sweet potatoes, and some egg. The green dividers are carrot leaves (thus making it my submission for hapabento's b.o.m.b. challenge). The top tier is rice with various colors of egg sheet on it to represent the flag of the Central African Republic.
This is also a brand new bento box and hat pick that I got from Just Bento's Menu for Hope raffle package. Thanks so much Maki for picking up bento goodies for me in Japan!