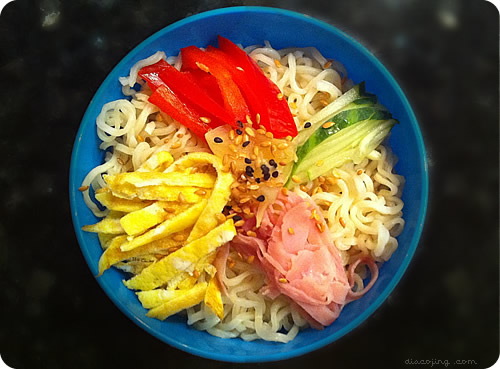 July's Washoku Warriors challenge was to make one of two dishes: Hiyashi Chuka (Chilled Chinese Noodle Salad) or Somen (Thin Noodles on Ice). I chose to make the hiyashi chuka because it was very flexible and came together in just a few minutes.
The recipe had two different dressing recipes and I chose the one that required no prep time and had the least amount of ingredients. I added a little more sugar and a little less sesame oil for personal preference. Next time, I would add a splash of plum vinegar or citrus juice to brighten the dressing a tad. The original garnishes called for were red pickled ginger, tomato, cucumber, shitake mushrooms, egg, ham, and sesame seeds.
I wanted to keep with the color scheme, so replaced the tomato with red pepper and switched out sesame seeds with flax seeds and some black sesame seeds. I omitted the 'shrooms since I don't care for them, and replaced the red pickled ginger (beni shoga) with regular pickled ginger. I also don't care for cucumbers so next time I'll replace it with zucchini. I don't really like sesame oil, so I was very worried about adding it into the dressing. In the end, I was surprised that the smell of sesame was so strong, but the taste was just right!
This dish came together so quickly, yet was satisfying and light–there will definitely be a "next time" for this.

Noodles with Clear Dressing & Garnishes
chilled, hydrated noodles (dried ramen) according to package directions
1/3 cup rice vinegar
1 heaping tablespoon sugar
2 tablespoons soy sauce
scant 1 tablespoon sesame oil
thinly sliced garnishes
Combine sugar and vinegar in a saucepan over low heat until dissolved. Remove pan from heat and stir in soy sauce and oil. Place in fridge to cool. Garnish noodles with toppings, drizzle dressing over. Toss to combine and enjoy!
One note on the name, as it is misleading. Originally I thought that "noodle salad" meant salad greens with a few noodles mixed in. This is a salad in the sense that it has toppings and a dressing that are then tossed together in the "style" of a salad.
Also, this blue container is actually my lunch for tomorrow! I picked up these nesting containers at Borders and this is the first journey it will make to my office. This is a great dish for bento because it's meant to be eaten cold–straight from the fridge.