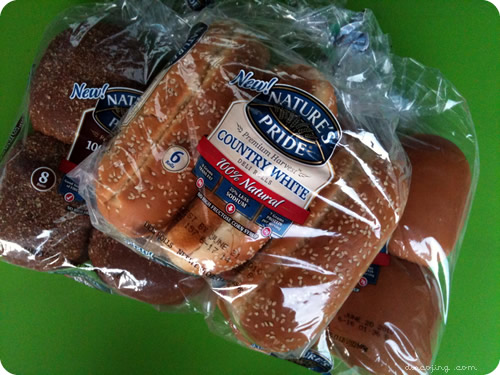 A few weeks ago my doorbell rang and I opened it to find a large box from San Francisco. I opened it to find three packages of Nature's Pride Premium Harvest Hamburger Buns and Deli Rolls from the Foodbuzz Tastemaker program! Three packages of bread is a lot for us to eat, considering we're a household of only two, but we tried our best! We ate sandwiches every day and grilled yummy Snappys on the weekend.
Unfortunately, we don't like white bread, so the Country White buns didn't really get eaten. I ate the Whole Wheat buns for lunches, and thought they were quite yummy. Many rolls we buy at the store for lunch sandwiches have too much bread and have a bad, chalky powder on the outside, leaving you with white-dusted lips. Not these! These were just the right amount of bread and I loved the dark, rich color.  I liked the fact that the buns were dense, but my boyfriend did not. I could see this bun standing up to a hamburger in strength, but it might stuff you until you were about to explode.
We like to think of buns and rolls as "treats" for a fancy sandwich, not for every day use. These would be great buns to buy for a grill-out, but my family is a potato-roll family! We can't get away from that nice, orange-y color and mild, sweet after taste. I'm fine eating regular sandwich bread, or even sandwich "thins" since I like to taste my sandwich innards first, before the bread.