September 30, 2008
This trip to Hello Cupcake was fueled by the recent 'Cupcake Wars' taken on by the Washington Post (though I had already heard about this particular contender and just hadn't gotten around to it until now).
First of all, this place is steps away from the Dupont Circle metro stop (which seems to be the mecca for confectionary goodness). Though without a very visible sign that can be seen from the street, the staff are more than happy to point you in the right direction towards their purple-signed building and wave at you from the glass widow-doors. Overall, this place is much bigger than its nemesis Georgetown Cupcake, and it also carries about the same hours (a minus for both of them). The decor looks as if it were vector-art drawn on an iMac in shades of brown and pink and is very inviting. The staff is very knowledgeable and even minutes before closing there are many cupcakes left for eating (though a slight lack of flavor-choice), including gluten-free. The display of product is not as glamorous as GC (think trays of Krispy Kremes in the supermarket bakery section), but that's countered by their amazing travel potential.
Every other cupcake boutique I've been too has been at a loss for travel options (a must when you only have one table and the line is out the door, or you don't have a storefront at all), but Hello Cupcake provided boxes with inserts which survived a brisk walk around Dupont, a metro ride, and even a bumpy car ride sliding around seats and the floor. These inserts protected even the frothiest frosting peaks and there were no smudges, even two days later when our blood sugar was normal and we could eat the rest of our cupcakes (Attesting to their 'keeping' power too!). For other places, even paying extra money to get a box instead of a bag resulted in a messy explosion inside regardless of measures taken to keep the box level and still.
The flavors change everyday, with a few daily mainstays. Seasonal flavors also appear (we missed the Root Beer Float by a couple days!) and all are listed on their website. The frosting is not too-sweet or piled on too-heavily. The heaviest frosting is their peanut butter frosting, which is on several flavors (because it's so good, I mean I don't even LIKE peanut butter and I ate ALL the frosting).
We had Peanut Butter Blossom (think those Hershey kiss cookies in cupcake form), Velvet Elvis (basically Banana Bread with Peanut Butter Frosting), and Princess (surprisingly fresh and flavorful strawberry cupcake with equally flavorful strawberry frosting with pink sprinkles). These cupcakes are great to share (or eat by yourself, depending on your threshold), but I could never eat two in a row. (Bonus for cute stickers on the boxes indicating what's inside in 6-pack/12-pack, etc denominations).
Recommended flavors: Peanut Butter Blossom, Carrot Cake, You Tart!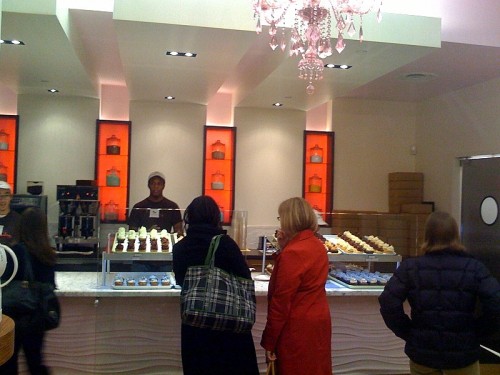 From the Washington Post 'Cupcake Wars'

About: Penny Karas, a former PR executive who grew up in a restaurant kitchen, opened her Dupont Circle bakery at the end of August. 1351 Connecticut Ave. NW, 202-861-2253; » More About Hello Cupcake

The Range: Hello sells about 50 varieties total, serving 14 to 18 on any given day. In addition to a vegan and a gluten-free cupcake, there were 16 varieties when we visited, including chocolate and vanilla cakes with various combinations of chocolate, vanilla, white chocolate, raspberry, strawberry, peanut butter and coconut frostings, plus lemon, lemon raspberry, pumpkin spice, carrot, banana and cinnamon chocolate cake with chili ganache. (Each, by the way, has a cute name, such as Prima Donna, You Tart! and Maya Favorite Cupcake.)

Price: $3 each, or $33 for a dozen.

Size: Smallish, with a generous beehive of frosting. (Average weight: 3.4 ounces.)

How do they taste?: Overall, pretty good, with moist cakes and decent, soft frostings that tended toward the sweet side. Theirs was one of our favorite lemon cupcakes so far, with a decent tartness to offset the sugar. On the other hand, this batch's low point was disastrous: We love the combination of chili and chocolate when it's well balanced, but theirs, with its overpowering heat, should be renamed Maya Least Favorite Cupcake.

Best of the Bunch: Vanilla Gorilla, a moist (and fruit-flecked) banana cake topped with a nearly perfect vanilla cream cheese frosting. (Score: 8 out of 10.)

Price Per Ounce: 87 cents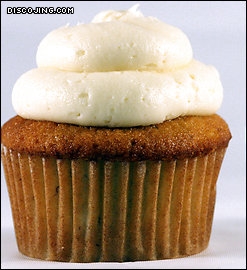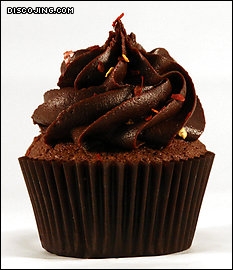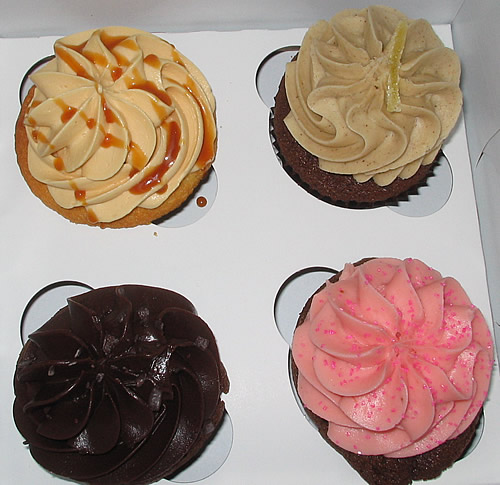 March 5th -Dulche de Leche, Chocolate Chai, Prima Donna (Strawberry), and Heart of Darkness
I actually only had the privilege to try the Dulce de leche and the Heart of Darkness. The heart of darkness was okay. It was very rich and chocolate-y, but the cake was dry (stale?!) and the chocolate taste just kinda reminded me of Georgetown Cupcake's Chocolate Cubed. The dulce de leche was very very sweet, and I ended up taking most of the icing off. The cake was also dry, but I did wait like a day and a half to eat them. Plus I know that these cupcakes weren't the freshest because the shelves were a bit barren when I bought them.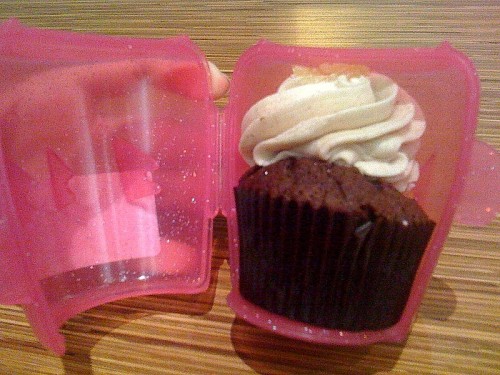 Nov 14th – Chocolate Chai in a Cup-a-Cake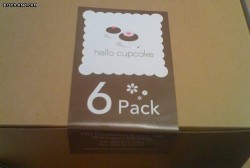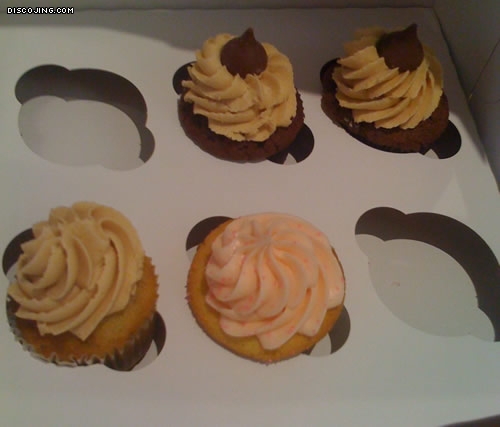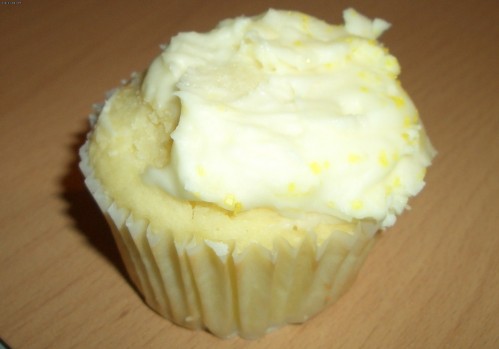 Oct 8, 2008 You Tart!