RAY'S THE STEAKS


STEAKHOUSE
Yelp page

| | | | |
| --- | --- | --- | --- |
| Food | Decor | Service | Cost |
| 19 | 18 | 16 | $25 |
July 31st, 2009
If you live in this area, you pretty much have to go to Ray's the Steaks and Ray's Hellburger. It's just the thing to do. Ray's moved this year to a new location when it moved it's Hellburger into the Steaks location. Ray's now takes reservations as well.
We didn't have a reservation, but walked in and didn't have to wait. We were seated at a table right next to the back-side of the hosting table (sitting next to the hosts that were standing and talking to customers, pulling out menus, answering the phone, etc) and asked to be moved. We were then moved to a table next to a supply station, a stop in-between the kitchen and the tables where people go to get glasses and silverware rolls. The hostess asked if this was fine and I said "Well, they're both bad, but I guess we can sit here." In my opinion, you just shouldn't put tables in places people don't want to sit. It's okay to have one or two less tables, the diners will appreciate it in the end (see: SEI Restaurant). I also didn't really know who our server was. We were being served by the hostess and two different waitresses at the same time, and they didn't seem to communicate with each other on what stage in our meal we were at. The hostess then came to us after about 5-10 minutes and asked if we wanted to move. At this point, we were all settled in (despite the constant bumping-into I was receiving by every waiter that walked by), so declined. After we placed our orders, another waitress came by and asked us for our drink orders. We told her we had already placed our order and munched on the bread and cashews. The spicy cashews were great, but the bread was thick, dense, and dry. Not to mention pretty much flavorless. The bread went mostly uneaten and was taken away when our food came.
So, yeah, the steak is cheap, but is it good? Honestly, I didn't order the steak here. I don't like steak, so I got the scallops. The appetizer portion for $9.95 was the size of an entree at any other restaurant and the scallops were the biggest I've ever seen. The scallops came served with onions (which didn't go with the dish at all) that were mostly inedible, and a mango chutney (which tasted like jelly and was good in moderation). The scallops themselves were good. They were almost 100% grit-free despite their size, but did have a bit of rubbery mouth-feel at times. I tried the Diablo steak served medium, and it too was alright. Nothing to right home about, and also served with the horrendous onions and with large chunks of garlic on top. Each steak entree comes with a side of mashed potatoes and creamed spinach. The mashed potatoes had pockets where I could taste butter, and the potatoes themselves had a slightly grainy texture at times. They didn't taste like instant potatoes, but reminded me of them. This was the first time I'd had creamed spinach, and it didn't make me a fan. It was interesting to taste, but too watery for me. Both were alright enough, but there was just too much of them. We don't need this much food, period! I ordered a small side of Macaroni & Cheese for $3.50 and it too was too large. After two bites, it went uneaten. The only thing worse than having a craving for macaroni and cheese is trying to fill that craving with an awful excuse for the dish. The macaroni lacked flavor all together, and tasted like pasta water. I could see some cheese in it, but there was absolutely no cheese taste. I've had better macaroni from frozen dinners.
These sides, paired with the size of the entree instantly made me realize, yet again, why America has an obesity issue. I chose the appetizer size of the scallops and a small size of the side, yet could not finish either. The steak and sides were taken as leftovers and eaten over a span of three days.
My boyfriend was "resting" part-way through his steak, placing his silverware down on the table, and I was still eating my scallops, fork and knife in hand, when a waitress came up to us and offered to box his food. I couldn't believe the constant pressure we were getting to finish quickly, it was obvious that they were trying to turn tables quickly. When we were finished, they cleared the table, boxed my boyfriend's food and sides, but left my dirty plate on the table until we left. Little things like this, in service, really irk me. It can really put a damper on the whole experience.
I did like the little mini-desserts we received though–chocolate peanut butter squares. It tasted fresh because the peanut butter was refrigerator-cold and the chocolate was very warm. The contrast was interesting to me, though some might not like it.
The decor in Ray's is nicer than it's previous location. It looks like a clean seafood/steakhouse inside, with wood and white and windows. It did seem like a starker version of a downtown restaurant, with no personalization at all. I guess you pay for the cheap prices, not personality though. I'm glad that I went to this restaurant, but I shall not be visiting again.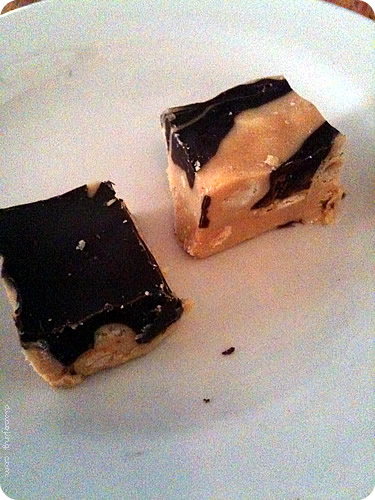 From Zagat

"A better deal does not exist" than at this Arlington "living legend" near the Courthouse metro that's rated the Top Steakhouse in the DC Survey for "incredible" house-butchered beef (plus "affordable wines" and sides "at no extra charge") that puts the "expensive chains to shame"; carnivores patiently endure the "rushed" service, "stark" space and "maddening no-reservations policy", 'cause "that's the shtick"; N.B. it may be moving to roomier quarters.

Courthouse | 1725 Wilson Blvd. (Quinn & Rhodes St) | 703-841-7297
Food: 27, Decor: 10, Service: 19, Cost: $44