January 25th, 2009
For some reason in the recent past I have found myself fixated on brunches. It's a meal only served only on the weekends at most, if any, restaurants, and finding a non-dim sum brunch that is worth getting out of bed that early is a mini-quest I've been on. Consider the adventure over: Farrah Olivia's resume fills all my requirements.
The rule of a good brunch is that it offers something interesting, not just the normal eggs, waffles, and french toast. First of all, it's a three course brunch–that's interesting in itself. There's something for everyone here (including the option to order single appetizers and/or entrees), from Shrimp & Grits to Waffles to Steak. There's also a great array of (affordable) drinks available, which I recommend. Don't worry, while there were a few brave souls sipping "Spicy Bloody Mary"s and martini's at noon, I'm referring to the delicious and refreshing Hibiscus lemonade ("spiked with ginger and lemongrass") and the less-sweet Hibiscus Iced Tea. I personally like the iced tea better–the lemonade was much sweeter–almost too sweet, but it's one of the best lemonades I've ever had. Iced tea is another story. I find myself either drinking way-too-sweet Southern-style tea, or tea that just tastes like leaves and water. This tea was perfectly brewed with just the amount of sweetness. At first I was a little off-put that our server kind-of insisted we get something to drink, and after we received our drinks I forgave him. (Not to mention that it was only $3.50 for a tall glass of refrescos-goodness with free refills).
With our drinks we received a basket of muffins/biscotti and a tray of four spreads. (Blueberry Cottage Cheese, a butter, a mango cream cheese, and a orange more-marmalade-than-jam jam). My favorite combination was the zucchini muffin + jam, though the cranberry muffin was a nice tart alternative. I didn't much care for the other spreads and refused to try the cottage cheese just because I have a past of cottage-cheese-hatred.
Service was good. There was only one server in our area, but I didn't feel un-attended to. We also had a personal chef-sidekick who would bring out some of our dishes and clear the table.  (Note: this is a business casual restaurant, which equates to multiple sets of silverware. You might want to familiarize yourself with some basic table etiquette before going.) He recommended dishes when asked (we asked for dessert), but his recommendations soon expanded to include nearly everything in the dessert section…which really negated us asking for his opinion. There were three minus points for service: 1) The table wasn't cleared of crumbs. Now, for some reason, we were especially not-that-crumby at this meal, but once you've eaten at a few restaurants that do "scrape" the table, it's a really nice added touch that you miss when it isn't…added. 2) Serving (literally). We were sitting at a corner of a four-cornered table, with two whole sides of the table open. The waiter took our orders while standing at the corner opposite of us, but persisted in serving the dishes (without warning) either right next to my face, or over my head. Out of all of the places I've eaten at, I've never commented multiple times throughout a meal that I was almost hit with my food! 3) He didn't explain the appetizer/entree dishes. I wanted to know what the blossoms were on my plate with the char and what the sauces were.
First Course: Warm Pear Beignets (orange cinnamon reduction | caramelized pear) & Squash Soup.
I had to look up what a beignet was before ordering it. (It's apparently a french doughnut.) This sounded like it would be a very sweet dish, but it wasn't. In fact, from the description on the menu, I thought it would be like Mexican, Chinese, or Indian doughnuts that I've had. In fact, the orange cinnamon reduction (if it was that?) was slightly similar to tomato sauce, and I didn't see any caramelized pear. For some reason, this dish reminded me of slightly sweetened pizza bites. You know what I'm talking about. The soup was a little thick for me, and looked like baby food. It had great flavors, (first flavor of cinnamon and then squash), but could have used to be a little more watered down and maybe have a more substance to it.
Second Course: Arctic Char (quinoa tabouleh | yuzu mustard) & Lamb Burger (smoked paprika fries | chile ketchup)
I was really hesitant about ordering fish this early in the morning, but figured that I'd chance it. The real test of a restaurant is if they can do seafood well, and I'd recently seen an episode on Survivorman (while flipping channels) where he was eating Arctic Char. I personally do not like eating the skin of fish, so I took the skin off of the char and gave it to Dan. I also don't like eating the grey mushy part of the fish that was connected to the skin, so I gave that to Dan as well. Other than that, the fish was great (not as great as the sea bass at Sea Pearl, but it's a different fish), and it worked well with the citrus-y couscous (which I took the ewwww olives off) and the sauces.
The lamb burger was possibly the best burger I've ever had. In fact, why do we even make cow burgers? I just want eat those baby lambs from now on. Cooked medium, it was the perfect amount of juiciness (not too juicy so it leaked all over the plate or made the bun soggy), and had great flavor. The bun was potato based and was toasted perfectly. It was also the perfect size for the burger — no hang overs here! I couldn't really taste the chile in the ketchup, and the fries were okay (you only get like four!).
Third Course: Chocolate Espresso (Brownie Bottom?) Cheesecake & Apple "Pizza" (fig jam | calvados ice cream | toffee sauce | pomegranate seeds)
These were good. The apple pizza was light and flaky, but the vanilla flavor of the ice cream was way too strong. It was the first time I got to try pomegranate seeds though (I made Dan eat one first). The cheesecake didn't taste like cheesecake — it tasted like a dense brownie.
The decor in here is great. We had a nice street-side view, but to the left there were mint green branches cut out of a brown wall, and above us was a classy green square with wooden rings hanging from it.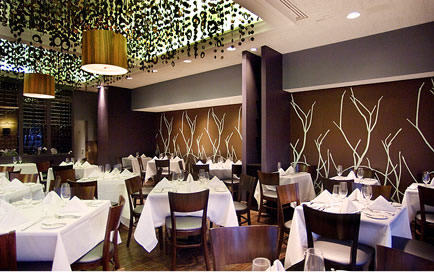 From Zagat:

Expect "fascinating" culinary "fireworks" from "innovative" New American maestro (and Iron Chef contender) Morou Ouattara at this "lovely" Old Town yearling where his signature "deconstructivist" style – and "fanciful" African and French touches – turn the seasonal menu into an "inspired" "dining adventure"; the "subtle" backdrop and "attentive" but "unpretentious service" keep the hurrahs focused on some of "the most imaginative" eating around.

Food: 25, Decor: 21, Service: 22, Cost: $54
Old Town | 600 Franklin St. (S. Washington St.) [King Street Metro] | Alexandria, VA | 703-778-2233