January 2nd, 2009
The location is bad but the food is great. I love the level of customization available here with vegetarian options as well. The burgers are surprisingly cheap, even if a little on the small side. Shakes and fries are great, and even though the burgers were only 2/3rds the size of burgers at Five Guys or Ray's Hell Burger, they were still filling and tasted fresh (not greasy and over-cooked).
The way the burgers were wrapped reminded me of First Kitchen in Japan, but the decor (warehouse-esque) and the baking pan the food was served in did not.
Service is okay. We put in our order and our name was called when it was ready. We had to pick it up–it wasn't brought to the table. I received raw onions instead of the caramelized onions that I requested, but that was fixed in a jiffy. We cleared our table ourselves (so no wait staff here). This is a place that a lot of families come to, so don't visit if you're easily annoyed by children dropping containers of oranges or teenagers venting.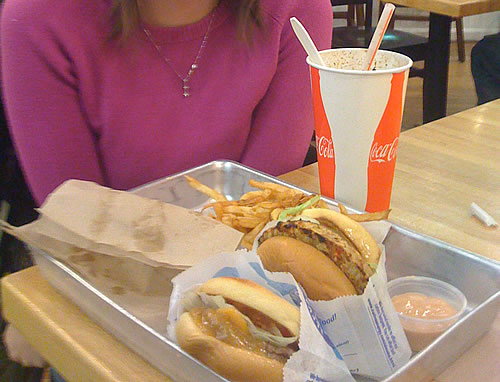 Cheeseburger and Veggie Burger #1 with Elevation Sauce, Fries, and Coffee & Cookies Malt