'Aji Ichiban' means 'Best Flavor/Number 1 Flavor' in Japanese, but this is actually a Hong-Kong company.
I've visited two Aji Ichibans, one in New York City (Chinatown) and one in Rockville, Maryland.
The one in New York City seems to be always filled and can be brightly seen from the road (when you're walking, not driving). It had a great assortment of candies and dried fruits (and other things that I couldn't identify if asked). I was able to get Western and Eastern style candies and chocolates for my family as souvenirs and bring them home for a non-painful price.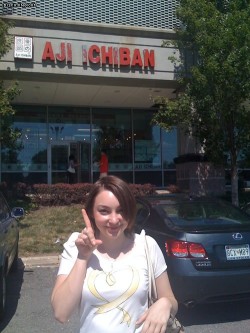 The one in Rockville is connected to a in-the-back-room beauty salon, and we were asked if we were there for the salon the second we stepped in. There was a real lack of selection here, and our only other company was an old couple looking at the dried…stuff, and I have a suspicion that they were actually there waiting for someone in the salon. This Aji Ichiban is in a conformist, grey shopping center, and is very hard to see from the road if you're not looking for it. I happened to be looking for Bob's Noodle Shop/Shabu Shabu place, and I'm familiar with Aji Ichiban already, but even I second guessed myself thinking it was a lame Japanese steak house or a knock-off of the real thing.
Both places have items in clear plastic tubs lining the walls and in the center of the store. No massive drawers up the wall though, this place is simple and clean with wooden floors, large windows, and a single cash register. Items end up in clear plastic bags with pretty red/black/gold stripes and writing on them.
Good for kids or to sample something you've never tried, but I'd rather go to the Chinese bakery! Many of these things (or similar) can be purchased at Asian (or American!) grocery stores to boot.