December's Washoku Warriors challenge was New Years (O-Shougatsu). We were given the option of three recipes: New Year's Salad (紅白なます), Fiery Parsnips (きんぴら), and "Smashed" Burdock (たたき牛蒡). I chose to do the first two because the process for the gobou seemed a bit time consuming in comparison to the others.
I made the kinpira for my family's New Year celebration on January 1 (more on this later). Everything seemed to be going really well and looked like it might even taste good, until I added in the soy sauce. Right when the soy sauce hit the pan, it caramelized and made the whole pan give off a burnt smell. The parnips tasted fine themselves, with a nice root-y flavor, but I couldn't get over that burnt smell.
I just made the namasu and I love it! The recipe is very easy and it's a dish that most everyone will like. The fruit in this salad mixes with the "dressing" (or pickling sauce) and gives it a nice pleasant sweetness that reminds me more of dessert than an appetizer salad. I will definitely make this again because it doesn't have many ingredients and it only takes a few minutes to make. This makes a great accompaniment to a meal or a nice, healthy bento-filler.
I'm glad that I finally found a recipe from Washoku that I absolutely love and it has common ingredients and is very easy to make!
Kohaku Namasu (New Year's Salad)
~3.5 inches of daikon, shredded (yield ~7oz)
~1 inch of carrot, shredded (yield ~2oz)
two measurements of 1/4 tsp. salt
1/2 c. Sweet and Sour mixture

1/4 c. plum vinegar, 2 tbsp each of sugar, dashi, and water

1 small dried apricot (or fruit of choice), shredded
1/2 tsp. yuzu peel or lemon zest
Peel and slice the vegetables. Put the carrot and daikon in separate bowls, sprinkle with 1/4 tsp. of salt each. Allow to sweat for 2-3 minutes and then press between fingers, gradually increasing pressure. Rinse briefly with cold water and drain all liquid. Combine vegetables and fruit and toss to combine. Drizzle the sweet and sour mixture over top, gently toss, and let sit at room temperature for at least an hour.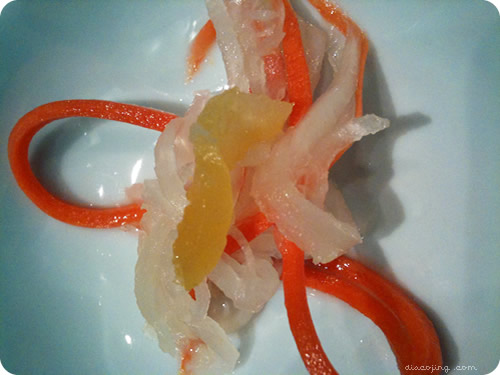 This salad is full of vitamins and is said to bring good luck because red and white are auspicious colors (red carrots grow in areas of Japan around the time this dish would be made). Kohaku Namasu actually means "red-white" and "(vegetables) pickled in vinegar". The strands of vegetables also look like ribbons, which connote prosperity, but also longevity!