This year I decided to do a lot of baking for the holidays. Last year, I made Milk Chocolate Espresso Cookies and Lemon Rings. I chose to make EggNog Cupcakes, Snowball Cupcakes, Milk Chocolate Espresso Cookies and Linzer Cookies using four different kinds of filling.
Here are the recipes (to be followed by pictures):
These were absolutely delicious, but they took a long time to make! I think I spent about two hours making all of the components of the filling and frosting, not to mention that hand-dyed and cut fondant. I was quite surprised at the strength of the egg nog flavor, but not sure that all the effort was worth the result. I'd buy these, but not make them again (unless requested).
The cupcakes themselves turned out alright. They tasted pretty dense, like brownies. Unfortunately, the frosting refused to come together. Even though I followed the directions, the egg whites refused to solidify. I tried making chocolate whipped cream frosting, but my beaters were too fast (and my whisking arm too slow). In the end, I just drizzled the failed whipped frosting on top and plopped some chocolate chips on top.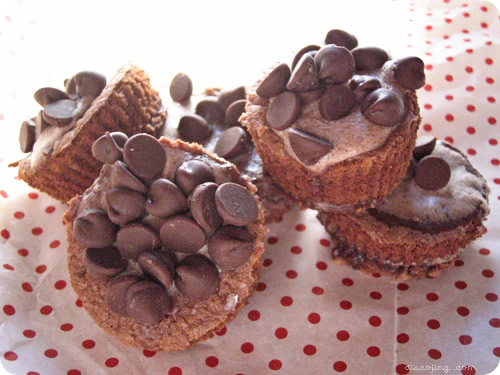 I absolutely love the Linzer cookies from La Madeline. I tried to find an easy Linzer recipe that didn't involve anything weird like nuts or specific extracts or flours. My friend, Stephanie, went to Catoctin Mountain Orchard during the fall and brought me back Peach Brandy Jam and Blackberry Preserves–I thought this was the perfect opportunity to put them to good use (besides me eating them of course)! I also used Strawberry Rhubarb preserves and Ginger preserves. Unfortunately, there was no more strawberry jam, or else these would have been 100% homemade.
Since the recipe made so much dough and I was the only one rolling, flouring, cutting, sugaring, baking, spreading, and stacking these, it took a long time. Probably about 3 hours, plus some recon work the next day to finish a few that cooled overnight when I was too tired to continue. Everyone seemed to like these more than the espresso cookies, which was fine because I love the espresso cookies! Then again, who could resist a cute heart, star, bunny, or bear cookie when faced with an alternative that looks like a lump of coal. The box below is what made it to my house for Christmas; the box I took to work was half espresso cookies and half linzer.
These cookie cutters are from Japan. I wouldn't recommend getting them. Even though their use is for linzer cookies, the dough doesn't pop out of the cutter that well and you have to tap on the side of the counter to get them out. Note to self: use open cookie cutters if I ever make these in the future.
That wraps up the baking for this year! I didn't talk about the espresso cookies since I documented them last year.
I think I'll be able to escape the rest of the year without baking anything else, but I have a feeling I'll be baking on the 1st of the year for my family's Chinese New Year feast. Wish me luck!