Today was NOKORIMONO DAY (残り物日)!!
I'm one of those people who just HATE leftovers filling up the fridge, so I cleaned it out with a smoothie, dumplings, and fried rice!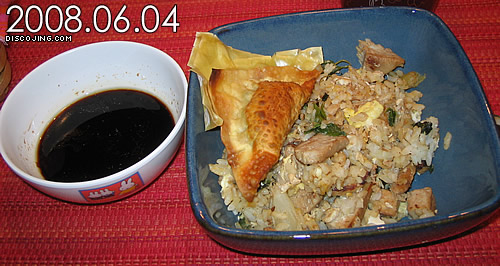 FRIED RICE
Fried Rice is a great way to use up left over veggies and meat. Here's what I threw in:
– 1 1/4 c. rice (you can use whatever leftover rice you have from the day before, I made new this time)
– 3 pork chops (cooked), sliced
– 2 eggs
– 1/4 block of firm tofu, sliced
– 1 bok choy
– Soy sauce (to taste)
– Oyster sauce (to taste)
– 1 tsp. sesame oil
– vegetable oil
Yep. Basically mix everything in. I wilted the bok choy in the microwave first and used only a little bit of the root because it's super dirty. I would recommend marinating the bok choy in soy sauce for a bit then adding it to the stir fry/rice because I used A LOT and it was a bit bitter. I the sesame oil and a little vegetable oil and heated it in the pan. I then added the tofu to brown it a little and then added the pre-cooked pork and the bok choy. Then I added the egg and rice. Then add soy sauce and a little oyster sauce. You can add pepper or salt if you want.
DUMPLINGS
Dumplings are another great way to use leftovers. I steamed half and fried the other half. You can do whatever you like best. The steamed ones allow the flavor of the filling to stand out more, while the fried ones work well with the sauce and taste super yummy.
– 1 pack of dough wrappers (I used the left over ones from Memorial Day's won ton soup)
– 1/4 c. Southwestern Egg roll filling
– 1 slice tomato basil bread
– 3 leaves bok choy
– 1 pork chop (sliced)
– 1 small block of firm tofu (cut from larger block)
– Soy sauce (to taste)
– 1 spoonful of wasabi powder
Put everything in the blender/food processor (except the wrappers) until it is evenly paste-like. Put a teaspoon-ful of filling into the center of the dumpling. Wet the edges with water or egg mixture. Fold. To steam, steam for 4-5 minutes. To fry, fry on each side 30 seconds-1 minute (until golden brown)
DUMPLING SAUCE
Mix 1 tsp. Sesame oil, 1/3 c. soy sauce and 1/4 c. mirin
SMOOTHIE
Blend:
– 1/4 c. left over orange juice
– 1/2 c. frozen blueberries
– 1 strawberry
– 2 bananas
– 1/4 c. pink lemonade
– 1 long squirt of honey
– ice