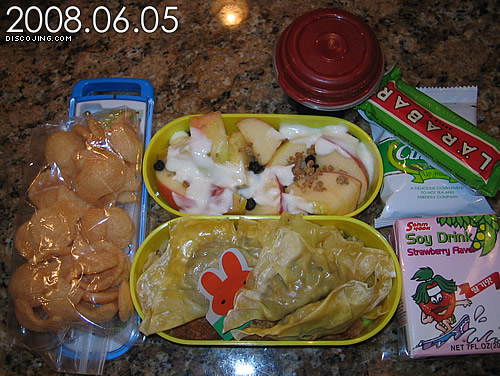 – Fried Rice
– 1 Fried Dumpling
– 3 Steamed Dumplings
– Fuji Apple
– Blueberries
– Grape Nuts
– Vanilla Yogurt
– Strawberry Soy Drink
– Tako Chips
– Sauce for Dumplings
– Por Lao Bao
– Apple Pie LaraBar (snack)
Whenever I make food for dinner, I try not to use it the next day for bento (if there are leftovers). I usually space it out a bit, but my sister wanted to have the left over dumplings for her bento. Recipe for rice, dumplings, and sauce here.
[audio: http://www.hapatite.com/music/Metro Station – Wish We Were Older.mp3|titles=Wish We Were Older|artists=Metro Station]