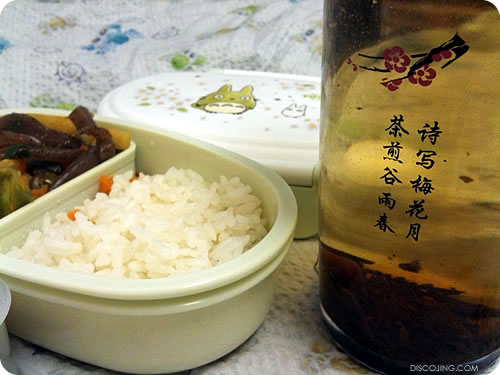 Whenever I make dishes using konnyaku, I end up making too large of a portion. I think this is because all dishes call for something to "balance out" the konnyaku since it has no flavor of its own and an un-appetizing texture to most. So, even if I use the littlest amount of konnyaku, I have to add at least equal parts of other ingredients, which adds up quickly.
This dish is quite interesting and goes well with pickled daikon and rice (in my opinion). The original idea I had in mind for this was with bean sprouts and chives, but I ran out of both of those things, so I used scallions, green pepper, garlic, jicama, and carrot. It was nice, but I didn't love it. I wouldn't make this recipe again, but I look forward to experimenting with konnyaku!
Speaking of experimenting, I've been trying a bunch of teas lately. I tried "Paradise" today and I wasn't a fan. I need strong, non-floral flavors in my tea. I'm a fan of oolongs and chais mostly, though I have found some green teas that I enjoy. I recently tried "Cookie" and hated it. The acidity got to me–not something to drink on an empty stomach. The package did say that it's "great for milk tea", so I guess that's what it was meant for. So far I'm in love with my grandmother's genmaicha (玄米茶) and chanakara melon oolong tea (even though it was the tea that spilled all over my purse and killed my phone, causing me to get an iPhone six months too early).
I still haven't tried my coconut oolong, stash wedding tea (green tea with honeydew melon and some yerba mate), and all the other chanakara varities that I have. Every morning I try to drink something, whether it be my samurai/white chai blend from Teavana or my "The Original" chai latte mix from Trader Joe's. It's great to have something to keep me awake and hydrated on my sometimes two hour commute (each way!). I'm trying to get away from coffee, but sometimes there are emergencies and I need an IV drip of that sweet beany goodness. I even learned how to make coffee in my office's coffee machine (is this good or bad?).
What are your favourite teas?