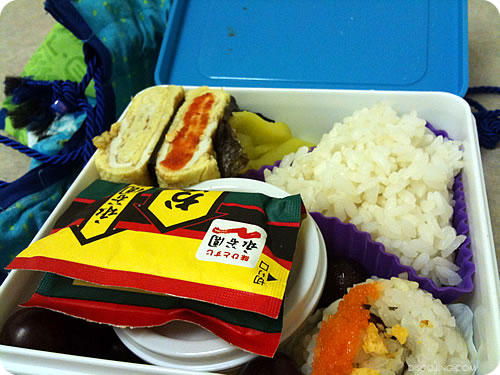 Today is "zakka" day! Zakka (雑貨) basically means "many different things", though it most commonly refers to little kitsch items that decorate the home. It's also been described as "the art of seeing the savvy in the ordinary and mundane", which this bento definitely is! I think I've put more things in this bento than I ever have before!
A simple square box filled with: usui tamagoyaki (thin egg), daikon, rice, temari sushi, grapes, edamame hummus, and a jabanero tortilla.
This was my first sucessful tamagoyaki! I used Lunch-in-a-Box's tutorial to find the major flaws that my process had been getting caught up previously. I cooked it in a tamagoyaki pan I got in Japan for 100 yen (~$1) and wrapped it in a bamboo mat to hold the shape while it cooled. I didn't really add any flavor like I should have, but I separated the pieces with nori and added rooster sauce to one of them.
The sushi temari (手鞠) was a slight disaster. The sushi was fine until I needed to cut it. Since I put the rice on the outside, I squished the sushi when cutting it and then formed the sushi into little balls. I topped them with roe (tobiko) and crushed Trader Joe's Cheese Nacho Chips. The inside are grilled tomatillos, tamagoyaki, nori, and some rooster sauce. This sushi was originally planned for Dan and his brother to eat on their day off (Fleet Foxes concert), but went uneaten because it didn't turn out.
Daikon didn't taste good because it's expired, but I made ochazuke (お茶漬け)! I brought some rice into work and put it into my coffee cup, sprinkled the seasoning, and poured hot water over it. Such comfort food~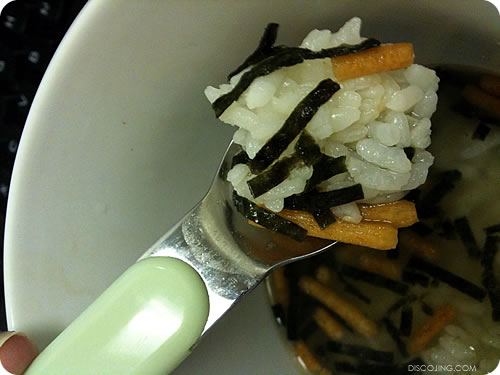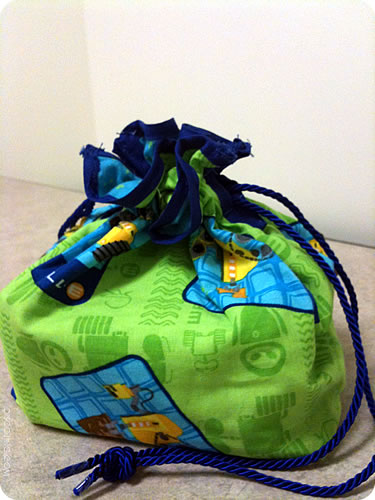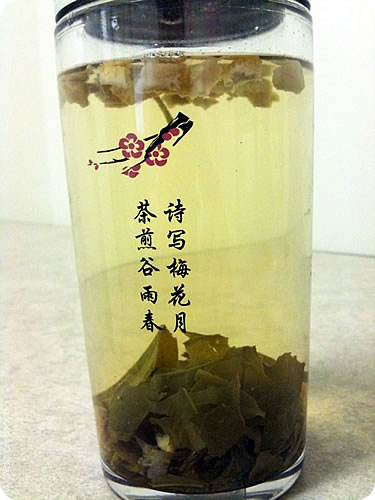 I tried my Wedding Tea today, since it sounded so good on the packet. It's green tea with honeydew melon and some yerba mate. It was just okay. There wasn't a strong enough flavor, maybe I need to double to dose? I had a delicious tea at Bazin's on Church and afterwards, I looked into the pot and saw half of the pot was filled with tea leaves!