March 7th, 2009
There's not much to say about this place — I was only in here for about twenty minutes, and most of the time was spent actually waiting for the food. There was a steady flow of people coming in that was a mixture of groups and solos dining. It was incredibly dark inside and the picnic table we sat at was so slanted that a cup of water would spill over if placed on it. I think this place is a good place to try out different kinds of fish to see if you like them, but that all. It's kind of like a higher-up Long John Sivers, where not everything is battered and deep-fried.
We split a lobster roll and sweet potato fries for $19. I thought lobster was supposed to be going down in price because no one bought it due to its high price. Apparently, restaurants just take that to mean that they get more profit (the couple in front of us cost $55! I thought this was supposed to be fast food!). This little tiny sandwich and fries was in no way worth the Jackson it cost. The bread was waaaay too buttery, and the roll itself was split on the top and the bottom, so it was very difficult to eat without the precious lobster falling through. I'd never really had lobster on its own like this before, and I had certainly not had lobster rolls before. I had a different image in mind, like mostly lobster with some stuffings or maybe lobster wrapped around something. I could think of many many other things I would rather eat for $19 than this, but at least I had the experience. The sweet potato fries were weird. Some were very very soggy, and some were so dark and weird (for lack of better word) looking, that they were put into a seperate 'not going to eat' pile.
Long story short, I'm not really a beach-shack-seafood person (or by this places standards at least), and I wouldn't go back here again. I would, however, go to the nice brother restaurant next door, Hook, and I would always eat those yummy seafood dishes at Sea Pearl, dim sum, and Oya.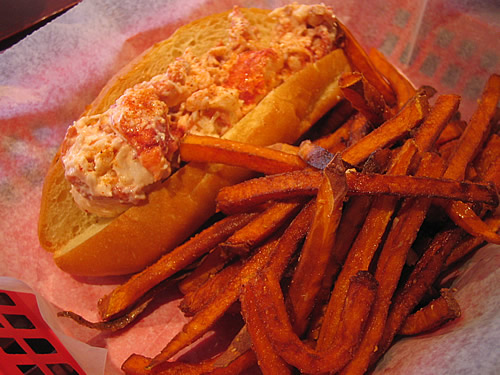 From Zagat

For all-American seashore fare in a casual atmosphere, head to this beach shack-themed spin-off of Georgetown's sustainable seafooder, Hook, where the customer service, buckets-of-beer vibe extends to bargain meals ($13 for your choice of wood-grilled or fried fish plus two sides and a sauce), lobster rolls, fried clams and chowder, all eaten at wooden picnic tables or carried out; N.B. it's signature 'lobster boil' pots are a ready-to-go  New England shore dinner.