March 5th, 2009

Thaiphoon is one of those places that you want to be good. It's nice and cute inside with lots of space and green brushed walls and tables. On a Thursday night, it was the only restaurant that was completely full.
The service was attentive and nice, but not suffocating. The menu, with about 70 dishes on it, is sure to find something for everyone on it. There are quite a few dishes that I think next time I might try because I didn't get around to it these times. The wait staff also has great recommendations. I was choosing between three duck dishes on the menu and when I asked for a recommendation, our waiter immediately told me which one to choose. I was very happy with my selection of Honey Ginger Duck. The sauce was amazing and flavorful, though there may have been too much of it.
I wouldn't go out of my way to go to Thaiphoon, but it I was in the area, I would much rather dine here than any of the Food Court options inside the mall, or any of the Asian Bistros next to it (Asia Bistro was not worth re-visiting, Zen Bistro/Wine Bar had a nasty boistorous bar, awkward seating, and an awful menu).
Three entrees and one appetizer was only $40!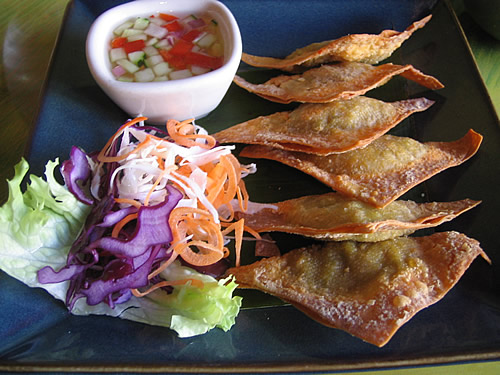 First Trip – Feb 7th
#10, Curry Puffs
Curried, minced chicken, potatoes, and onions stuffed in wonton skin, deep-fried until golden brown and served with cucumber relish.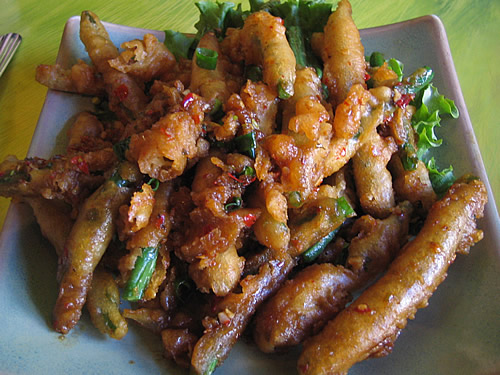 First Trip – Feb 7th
#62, Crispy String Bean
Lightly battered string beans deep-fried until crispy, then stir-fried with fresh ground pepper, and garlic sauce.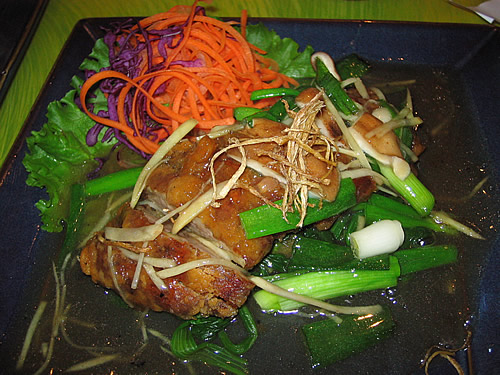 #37, Honey Ginger Duck
Half boneless roasted duck in gingers sauce, shitake mushroom, and scallions on a bed of steamed spinach