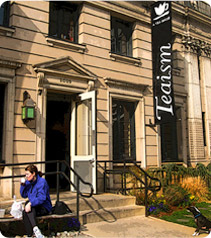 May 13th, 2009
I finally made it over to Teaism! There are three different locations, one in Dupont Circle, one in Lafayette (Farragut), and one in Penn Quarter. The Dupont Circle location is open the latest and has the largest menu (about the same as the Penn Quarter's). The Lafayette location only serves lunch until 230, but has afternoon tea options at a set price and menu until closing. All locations serve breakfast — I hope I can get over there one day to taste that menu.
The Dupont location has two levels. The first level is great for solo diners. To the right hand side upon entering is where you place your orders. There are also small areas on the first floor where you can buy various tea pots, cups, books, teas, and accessories. I'm particularly interested in the Tea Tiger (image in the gallery below), which is a plastic thermos that you can put tea leaves directly into, pour water over, and close the lid. The tea will brew within the thermos and you can drink through the second lid, which has a filter on it.Unfortunately (fortunately?), I don't care much for tea (outside of Chinese restaurants and Chai). Low tables with chairs line the two large windows on the storefront. It's quite hard and crowded to eat hear as a group, but would be quite comfortable for a long, quite sip by your lonesome.
If you travel up the worn, wooden stairs, you'll see an elegant, bare-bones dining area. Simple Japanese fabric lines the booths along the walls and wooden tables are spread generously throughout the area. One of the greatest things about the upstairs seating is the view. Teaism has the windows open, looking out onto the quaint row houses outside as the sun set. Even though Teaism is right off of a major road and next to a Starbucks, there's something quiet and relaxing about this. It reminds me of maybe a restaurant in a third world country that doesn't have air-conditioning, so leaves windows open and lets natural wood speak for itself. The restaurant is worn, but in an elegant and sophisticated way. This is a restaurant to go by yourself for contemplation or a nice read, or to come with a friend for a long catch-up chat that can go on for hours (I speak from experience).
I was set on getting the naan and mango chutney with the sweet potato salad, but when I arrived at the register to order, I spotted the Seitan Stir fry Special. Seitan is wheat gluten with a meaty texture that many vegetarians and vegans eat as an alternative to meat (of course) and tofu. I also ordered the Zhenzhou Pearls bubble tea. My friend ordered the Salmon Bento.
The food was ready very quickly and was served on trays lined with brown and green Japanese-looking paper. I took the food upstairs and sat at our table. Chopsticks as well as normal utensils are available (self-serve style). Seitan stir fry wasn't really a stir-fry. It reminded me more of an ocha-zuke with the crispy rice ball in the middle with sesame seeds, spinach, seitan, and delicious macadamia nuts surrounded by a savory, shallow broth. Each bite was delicious and complex, yet clean. The sweet potato salad was interesting. For only 2.50, I received a very large serving. First bite was too flavorful, but after a few bites I got adjusted to the taste. After adjusting, the sweet potato was nice (a bit too firm for me), but the sauce was still a bit off. The miso sauce tasted more like a gravy, and I had been expecting a potato salad–just made with sweet potatos. I packed up my remaining half of each dish and took it home to eat the next day. The bubble tea had a nice flavor, not too sweet like most bubble teas, but still pleasant to drink. Unfortunately, I drink my tea a bit slower than most, so some of the bubbles were soggy by the time I got to them.
My friend's bento was served in a traditional Japanese bento box, complete with dividers and lid. There was a small piece of teriyaki glazed salmon, a sliced cucumber and ginger salad, and two brown rice balls and edamame. We shared a Salty Oat cookie as well. This cookie was substantial. It wasn't too large, but it was dense. At first bite, the salt is jarring, but if you hold the bite in your mouth, the sweetness blends with the salt and becomes perfect.
The food itself really fits the weather (warm with a nice cooling breeze through the windows). It's hot, but not hot. It's cool, and placed neatly on plates– more of an indoor picnic than anything else. I will definitely have to return very soon to try one of their ochazuke (rice served in tea), and many of their teas, drinks, sides, and desserts, as well as breakfast and afternoon tea.This is truly a unique establishment in DC.
From Zagat:

This trio of very "un-DC" counter-service tearooms offers a "quick and cheap bite without sacrificing taste and health" amid Asian-inspired surroundings that can be "serene" or "bustling" depending on the time of day; "dishes as good as they are simple" range from "guilt-inducing to Zen-lightness", and the "variety of food" "makes up for the long lines during rush hour"; N.B. the Golden Triangle branch is open weekdays only.

Food: 20, Decor: 16, Service: 15, Cost: $16
Dupont Circle | 2009 R St. NW (Connecticut Ave.) | 202-667-3827