Located in Metro Center, this member of "Passion Foods" is a multi-faceted restaurant. With many different dining areas (casual with wicker chairs, business casual with simple wooden tables and plants, lounge, and private rooms with doors), Ceiba really can give you anything you want. You can come here for happy hour, a romantic evening, or an office meeting.
The staff was very attentive to us (we stated on the reservation site, opentable.com, that it was our anniversary, and we were given a great location in the more upscale dining area, "Happy Anniversary" was printed at the top of our menu and written on our dessert plate). Many of the dishes sounded very interesting, but we were only able to get 3 appetizers because the portions were so generous (as opposed to other restaurants that might charge $20 for an appetizer that is eaten in 2 small bites). In fact, we chose a more tapas approach to the experience and ate only three appetizers and no entrees (and of course drinks and dessert), therefore being able to sample many more dishes.
We ate: Crispy Fried Oysters with Mango Torilla Slaw, Chipotle Remoulade (11), "Hot Lava Stone" Queso Fundido with Shaved Ribeye Steak, Poblano Chilis, Oaxacan Cheese and small yummy tortillas (13), Grilled Argentinian and Mexican Chorizo sausages with Roasted Eggplant Raisin Chutney, Sweet and Sour Mustard, Warm sugar Canela Dusted Churros with Dark Rich Hot Fudge (and a candle w/ happy anniversary written in chocolate), Almond Marshmallows, and caramel and almond popcorn (this was complimentary and tasted like a non-sticky, grown up version of Cracker Jack). For drinks, the Dark and Stormy [Goslings Black Seal rum, Goya ginger beer & fresh lime ] (a little too much rum for us) and Yucatan Sunset [Bacardi Razz rum, Citronge, mango puree, fresh orange juice & grenadine] (had pockets of just fruit juice and just alcohol taste…). Both drinks came with little neon-orange bulls on the side of the glass. I see how this would be appropriate in the lounge area, and it was cute for a souvenir, but not style-appropriate for where we were dining.
Overall, it was a great experience, and I would love to go back for their $5 mojito happy hour (with comp. food) or for lunch or dinner again so I can try the rest of the menu that we were too full to eat (like the red snapper, jumbo shrimp, or grilled octopus salad). In the end, you don't pay just for the food, but for the experience as a whole, and it was worth it, because they made us feel special. [Not to mention the super-cute parrots painted on a mural behind us and on the outside of the restaurant]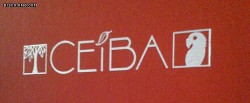 From Zagat:

With "wonderful" South and Central American-inspired dishes "bursting with complex flavors" and presented in "beautiful" Downtown digs, this "happening" Nuevo Latino is as "great for an anyday meal" as a "business lunch" or a "special occasion"; so start with a "mean caipirinha", move onto the "must-have" ceviche sampler, then get an "amazing" crispy whole fish before enjoying the "best part" – complimentary "caramel popcorn brought with the bill."

Food: 24, Decor: 24, Service: 22, Cost: $48
701 14th Street. NW (G Street, Metro Center station) 202-393-3983