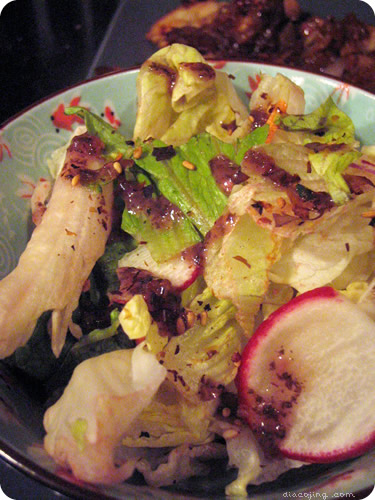 A local restaurant, Zentan, has a salad with a dressing that I really like. The only problem with this dressing is that it has insane ingredients and weird proportions. You can see the full recipe here, but I tried to quarter it and skip the blender step.
Salted Plum Dressing
¼ c. or 1 tube salted-plum (ume) paste
1/8 c. rice-wine vinegar
¼ tsp mirin
¼ tsp dashi
1/3 tsp to ½ tsp onion oil
1½ tbsp sugar
1/8 tsp. grated ginger
dash of sea salt (~1/16th tsp)
Whisk until all ingredients combined. If you want a smoother texture, place in blender and purée until smooth.

Onion Oil
1/3 to ½ cup vegetable oil
½ cup loosely packed chopped leeks, white part only
½ green onion, chopped (1/4 white part, 1/4 green part)
¼ medium onion, chopped
In a medium saucepan set over high heat, combine all the ingredients. Cook for 3 to 4 minutes, stirring occasionally. Decrease the heat to medium-high and cook for another 5 minutes, then decrease the heat to medium. Cook the mixture for 10-15 minutes, stirring occasionally, until the onions and leeks are crispy and brown. Remove the pan from the heat and strain the oil into a bowl through cheesecloth. Discard the solids. Let the oil cool before transferring it to a jar. Keeps in the fridge for up to 1 month (which is good considering the dressing only calls for a little bit of it)