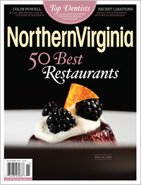 This month's issue of Northern Virginia Magazine is the "50 Best Restaurants" issue.
When compiling the list of restaurants and staff reviews, Northern Virginia also pulled from user reviews and added a new feature, the "Second Opinion" section.
An excerpt of my review of Tachibana was chosen and printed with the staff-review of it. Honestly, I was surprised that my review was picked because I have only been to Tachibana once and I only ordered one dish–shabu shabu. Tachibana is known for their bento boxes and sushi, not their shabu shabu. The only reason I ordered shabu shabu there was because Tachibana is one of the only authentic Japanese restaurants in the area, and at that, one of two in the area that supposedly carried shabu shabu.
I think that there might not have been many user-submitted reviews to pick from, and maybe mine contrasted the greatest with the staff review and that was why it was chosen. I'm glad that I got printed, but it is a little bittersweet for me since some of the other "second-opinion" spots I read weren't that well written. I didn't read the user-reviews that weren't selected though, so these may have been the best of the bunch. (Please don't take this to mean that I think my writing is stellar. I write the way I speak–you won't see anything here or on the other sites I write for that sounds unnatural, disingenuous, or contrived. I do NOT write with a dictionary or thesaurus on hand.)
Regardless, I am absolutely elated to have something I've written actually printed! It's much different to have something of yours in a tangible publication you can actually hold in your hands!
I've uploaded three different images of my excerpt– just my "second opinon", the whole Tachibana review, and the whole page.