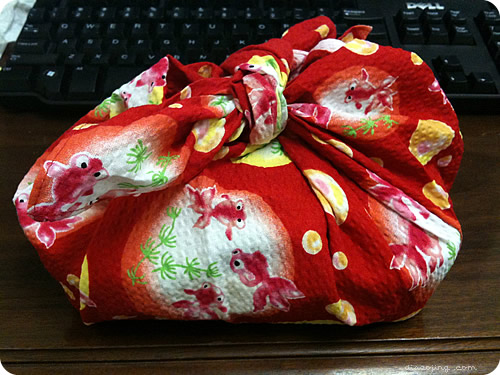 I was given lunch Monday, made a sad sad lunch on Tuesday (furikake rice with a peanut butter/jelly sandwich), and bought lunch on Wednesday, so Thursday was the first bento that actually had some semblance of bento-ness.
I wrapped this in a furoshiki I got from Japan. The top level of our local department store in Mizonokuchi (OI/NOCITY) had cute furoshiki and bento stuff, and I think I thought these were crabs when I bought it. Either that or I have a similar one that has a crab print on it. The reason I needed a furoshiki was because my Wall-E bag is a little too small for this Miffy lunch box. The Miffy box is only one teir, but extra horizontal. When I was making my Wall-E bag, I based it off of a Rilakkuma bento bag I bought for my sister which came with a smaller two teir bento. Oh well. So long as I have something to keep the bento together and serve as a protective barrier between food and my Coach purse.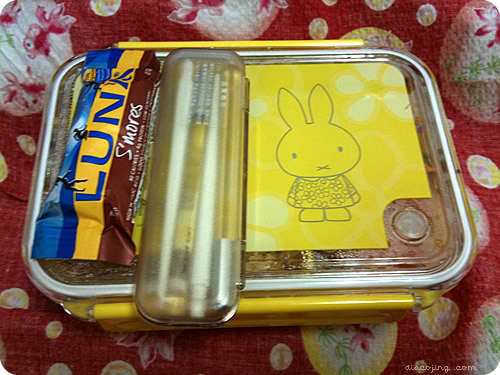 Here are some cute compact chopsticks that I bought at LoFt.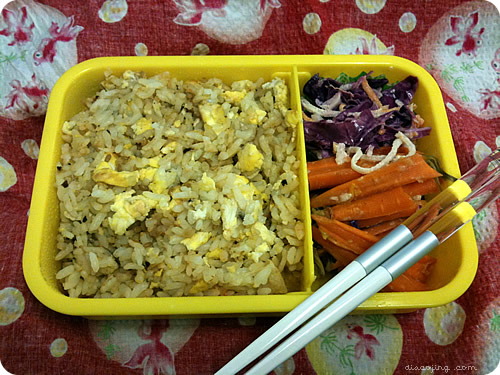 Left side: Fried Rice (egg, pepper, some oyster sauce/shoyu, flaxseed); daikon slaw; ginger carrots.
Sides are left over from Harry's Tap Room. I was also really bad and not only got coffee but also got a little "Tropical Paradise" coconut/passionfruit bar from Starbucks. It was good, but I would have rather had a espresso brownie.
Not pictured: Dannon Light & Fit Watermelon Yogurt.
I was so proud~ I made this in the morning!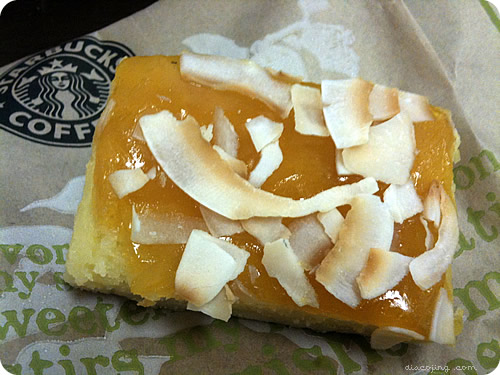 By the way, photos are taken with my iPhone 3GS camera and processed in Picasa. This will probably be the standard from now on since I can't be bothered to bring my crappy ass camera with me everywhere I go. I do hope to get a new camera soon, but this is about the same quality as my current camera (give or take), so I'll make due for now.