October 15th, 2009
I was contacted via survey by Masa 14 after my recent visit with my friend Stephanie. Stephanie was in a great position to help me fill out this survey since she's a fellow foodie and was able to provide her unique vegetarian point of view on the menu. The survey asked diners for their thoughts on Decor, Food, Menu, Service and "Thankful-ness" from the staff for our patronage. I've included our slightly edited responses below, divided into the sections they asked for our feedback on. They also asked for rankings out of a possible five points–we ranked all categories either 3/5 or 4/5.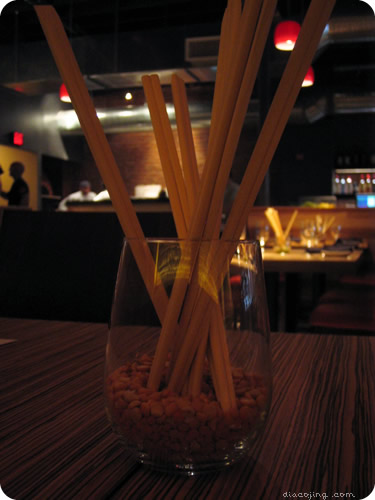 Ambiance, decor, comfort
Love the wood detail, the layout of the place was okay. the outside made it seem like it was going to be smaller, and I was suprised at the size once I got inside. It was a bit hard to tell it was a restaurant outside since I couldn't see a sign for "Masa 14".
Menu variety and Choice & Food Quality and Taste
There were some interesting ingredient combinations, so this is a good place to get exposed to ingredients you haven't tried before. The menu is not very vegetarian friendly–there were a lot of dishes that I think could be "made" vegetarian that would taste delicious. I would also like to see sushi rolls as well as temaki. A lot of dishes seemed like a good dish to try, but not good enough to order given that the prices would make the bill add up very quickly. I had the "Eastern Breeze" drink and it was very good.
Overall, the menu was interesting, but I was a bit confused. The dishes seem to be Asian with Mexican ingredients, making dishes "mash-ups". Is masa 14 supposed to be Japanese-Mexican, or Asian-Latin (like Zengo)? If it's the former, we would like to see more traditional dishes that use a mixture the flavor profiles as a way of modernizing, instead of these "mash-up" type dishes. Also, I think the majority of the menu was Asian with Latin ingredients, and I'd like to have seen some more traditional Latin dishes with Asian ingredients.
We ordered the seaweed/jicama salad, pork buns, ham/melon flatbread (1/2 with ham, 1/2 without), yucca fries, green tea tres leches and the mango panna cotta.
The salad was yummy. The texture could be improved a little bit, but the flavor was good. I think there needs to be a little more of a crunch element, which I thought would be provided by the jicama. Seemed simple, but had complex flavors.
The pork buns were alright. I liked the strong acidic flavors provided by the lime and pepper, but the pork got a bit lost in the mix in terms of flavoring. The "bun" was a bit too small and so it was awkward to eat. I think if the "bun" were larger, or an actual bun, it would do a good job of soaking up of those delicious juices that ran down the side of my arm instead~
The pizza had some very interesting flavors. I didn't think I would like the melon with the ham, but it worked surprisingly well. I would have liked the ham to be a little crispier so that it was easier to bite into, but it was alright. The greens had a very strong dressing on them and the bread could also have been used to be a little bit crispier. I really liked the idea though, and the kitchen's willingness to custom-make the pizza and it came out very quickly.
Mango panna cotta was great. Light but rich at the same time, and the coconut milk flavor was really pronounced. Green Tea Tres Leches was good, but it was a little bit off. I think the passion fruit "sauce" wasn't integrated well into the dish and didn't go with its overall flavors. Maybe something less acidic and more savory, like red bean or coffee on top?
Service
Our waitress was very helpful in explaining the menu when we asked questions. There weren't any untimely delays in service and she was quick to repair an order that was served to the table incorrectly.
I was contacted to fill out a survey about my recent experience. I like when restaurants ask for opinions of their customers. I also liked that Masa 14 confirmed our reservation by calling us.
I really enjoyed talking to Chef Kaz, it seemed like a real treat that he would take the time to come to our table and ask our opinion.
Overall, We would both go back again after viewing the full menu (our waitress told us it was 50-70% of the menu). Masa 14 has some really great ideas, it's in a convenient location, and I love Zengo!