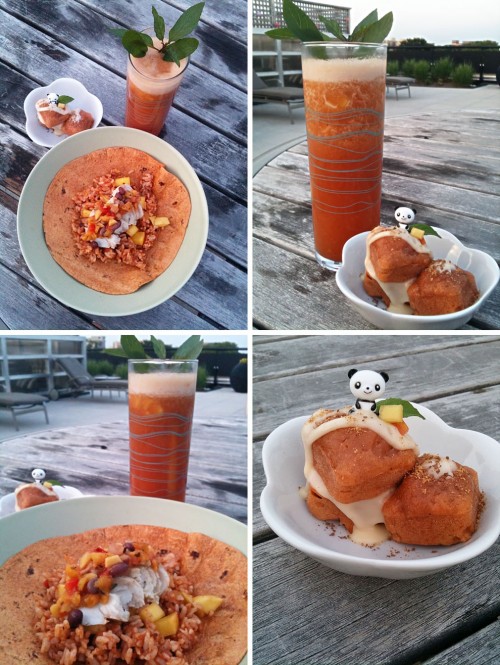 Olga of Mango & Tomato is is hosting a recipe contest for her 2 year blog-iversary that requires the use of mangoes and tomatoes in a dish. We were only required to make one item, but I couldn't calm my imagination and decided on three different dishes.
Mango Bloody Mary
spicy tomato puree with mango juice, absolut peppar, mint and mango garnish
Spicy & Sweet Fish Fajitas
grilled red chile tortilla topped with tomato and mango fried rice, grilled mahi mahi, and mango & black bean salsa
Tomato Petit Fours with Mango Glaze
tomato cakes with a touch of cocoa powder drizzled with a sweet mango glaze and kinako-cinnamon
Most of these things were basically just assembled versions of the descriptions. The most successful were the fajitas and the petit fours. I took this opportunity to try a bloody mary for the first time (and use up some absolut peppar) and I did not like it. 2 parts tomato mixture, 1 part mango juice, 1 part absolut, and the drink was still too tomato-y! Some people like drinking tomato juice but I cannot stand it.
The fajitas were juicy, crispy, and acidic. The rice used some tomato soup, diced tomato, and diced mango. I crisped up the bottom before combining all the ingredients, which was a great textural contrast. I'm sure everyone has their own fried rice and salsa recipes, so I'll leave that up to you. Mango salsa is one of my favorite things to eat, but I thought it was a predictable use of the ingredients so I tried to make a dessert. I was thinking about making a granita or sorbet duo using the mango and tomato, or even a tomato macaron with mango filling, but my laziness got the best of me and I chose to do a cake. I've heard of a tomato-soup cake before, so I adapted a recipe for donuts to be used for cake and subbed the milk for tomato soup. The result was spicy, savory, and paired well with sweet, sticky glaze I drizzled over the mini-cakes. The glaze came together easily and is an adaptation of a glaze I make when whipping up traditional petit fours.
Tomato Petit Fours with Mango Glaze

1¼ cups cake flour, sifted
½ cup granulated sugar
1¼ tsp. baking powder
1/8 tsp. ground nutmeg and/or cinnamon
dash salt
½ cup tomato soup
1 egg, lightly beaten
1½ tbsp. butter, melted
½ c. powdered sugar
3-6 tbsp. mango juice
1-2 drops vanilla extract
Preheat oven to 425°F. Sift together flour, sugar, nutmeg, cinnamon, and salt. Add egg and butter, stir until combined. Measure out soup, whisk in baking powder until frothy. Fold into mixture. Cook 2tbsp portions of batter, either in squares or circles (you can do this in liners or pans, whatever you have laying around. I used a brownie bites pan). Bake around 8 minutes or until the tops spring back when touched. Let cool for 4–5 minutes.
While the cakes are cooling, combine the mango juice and sugar. Add a little at a time until you get the consistency you want, it should be thin enough to be drizzled or poured. When you've reached the desired consistency, add a dash of vanilla and stir.
Assemble the cakes, drizzle glaze, and sprinkle with cocoa powder and/or kinako-cinnamon mixture. Top with diced mango and tomato and mint leaf.
p.s. look at the snazzy header I designed for mango & tomato! Olga was nice enough to come to my apartment and teach a friend and me a knife skills class in April, so we worked on a mini-face lift for her site~