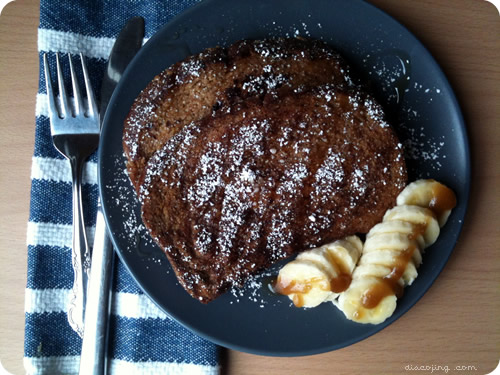 A new Whole Foods opened near me recently. As part of their opening promotions, they invited Facebook users, Twitter-ers, and e-mail subscribers to take part in a "Rate the Recipe Challenge". We were asked to visit their online Recipe section and pick a recipe that hadn't been rated yet. After we submitted our recipes, we were given a $20 gift card to purchase ingredients and the promise of another $10 gift card as incentive to complete the challenge.
It was hard to decide on just one recipe to choose, but I ended up picking Almond French Toast. This recipe was french toast with a twist, it's egg and dairy free! My review follows below.
One of my favorite foods of all time is french toast, and the best part is the spongy, eggy taste of the center paired with the crisp and sweet outside. This recipe came together very quickly and really delivered on the "french toast" experience. The protein and texture of the eggs are replaced with the almond butter and tofu, and the milk is replaced with almond milk. The batter for the last few slices in the batch had a more paste-like texture that sticks to the bread , but if you're not afraid of getting your hands dirty, just wipe the bread down a bit between your fingers and this problem is solved. The bread is also a little dry because there is less liquid in this batter so it would pair great with some yogurt or extra syrup.

The best part of this dish was definitely the toasted almonds. I thought that topping the french toast with almonds wouldn't taste good, but toasting them beforehand gives a wonderful crunch and brings out the natural sweetness of the nuts while providing a strong textural contrast.

The main ingredient in all french toast dishes is the bread, so this recipe can go all sorts of different ways depending on the type of bread you use. I made one batch using some whole grain bread and another batch using challah bread. I liked the challah bread better because it had a crispier outside and the lighter center of the bread soaked up the mixture better, but it really comes down to personal preference (and if you're making an egg-free recipe, you should probably use an egg-free bread). The egg-free, whole wheat batch was served with some bananas drizzled with brown sugar syrup on the side while the challah batch was served with a smear of chocolate-hazelnut spread between slices.

This is a great recipe for those that love french toast, but can't have it the traditional way due to dietary restrictions. This could be seen as a bit expensive to make if you didn't have any of the ingredients, but most people have at least some of them. Also, this would be a great opportunity to utilize the "make your own nut butter" and bulk food sections at Whole Foods since this recipe only calls for a little of each ingredient.