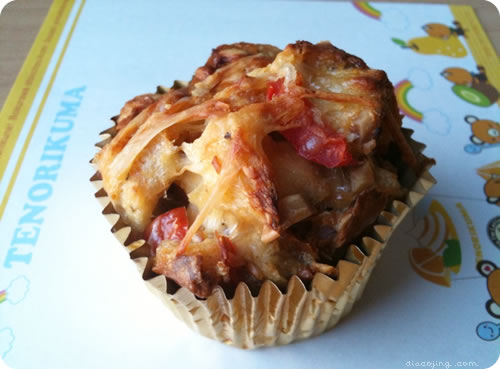 After seeing a recipe for mini bread pudding using leftover challah bread on Mango & Tomato, I decided to try my hand at it. I chose to go the savory route since I wanted to be able to eat these as snacks or pack in my lunches. I also didn't have any of the sweet ingredients on hand, and took this opportunity to make a nokorimono (leftover) dish!
I mixed all the ingredients together and let them mingle in the fridge overnight before popping them in the oven the following day. I chose to bake them in muffin liners so they'd release from the pan effortlessly and would be easy to transport.
makes ~10 mini bread puddings
leftover challah bread
diced tomato
parmesan cheese
chopped savory marcona almonds (made by my friend, Stephanie)
flax seeds
ground black sesame seeds
milk
eggs
soy sauce
turkey
Cut or pull the challah bread apart into manageable pieces. The ingredient amounts will depend on the amount of bread you have. Mix eggs, milk, sesame seeds, and soy sauce into a bowl and combine. Add tomato, cheese, almonds, flax seeds, and torn turkey into another bowl. Toss with hands to combine. Pour liquid mixture over bread mixture, combine with hands. Line muffin pan with liners, fill cups 75-90% full, sprinkle with more cheese on top. Bake at 375 degrees for 30 minutes, or until the "puddings" are done to your likeness. You can bake a little longer if you don't like having spongey bottoms to the puddings.
I brought these over to my house for memorial day weekend and got my sister to try one~ They taste pretty good and can be considered one of those "freezer stash" items to keep for rainy days, or nice picnic lunches. The small, individual size lends itself to sharing, but you could definitely cook this mixture in a pan and serve it up family-style!
I was lacking herbs in the kitchen and think some dill, parsley, or even some spinach would work well in this dish.