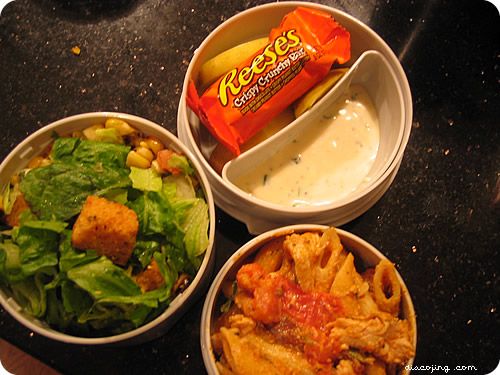 – Sweetwater chopped salad (with roasted corn and croutons)
– Sweetwater Jambalaya pasta
– Buttermilk ranch dressing
– Apple slices
– Reese's Crunch
n/a
May 4th – These were leftovers from my sister's celebratory dinner at Sweetwater Tavern (Falls Church). Dan ate just the pasta and was full! He saved the salad and other things for the next day though he purposefuly accidentally spilled the dressing on the apples, so couldn't eat them.
I tried to make a manly lunch for him. This is actually my Mr. Bento (purchased from Yodobashi in Japan '07), but all the containers were placed in a brown bag instead of the insulated cylinder. Dan claimed that he didn't know what order to stack the containers when replacing them in the brown bag, hence leading to the dressing spilling. And I *almost* executed a nearly perfect non-bento bento!
It was a sort of birthday-weekend-extend lunch, since he loves all of these foods. The Reese's were purchased in an 8-pack that I said "he could only use when I pack him lunch", which means I'm allowed to pack bento!