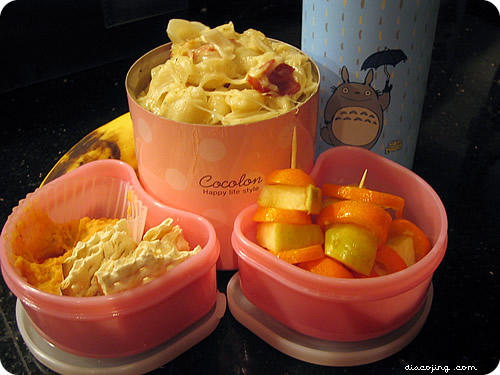 – Homemade Macaroni and Cheese with peppered turkey bacon and Baybel light cheese
– Homemade hummus with matzos
– Apple and kumquat skewers
– Apple banana
– Chai Latte (Trader Joe's Chai concentrate mixed with fat-free milk)
This was a real legit bento — for me! The first day of real work in a long time. Well, it's still not real work because its temp work, and only for 4 days, but still. It's a commute-to-a-place-that's-not-your-parents'-house job.
I was going to make regular mac and cheese, but the processed cheese seemed a bit too heavy for me, and Danny was in the kitchen cookin' up some habanero sausage from Whole Foods, so I decided to improvise. I took two peices of turkey bacon, ripped it up, and cooked it in a saucepan for a few minutes. Then I took 4 mini baybel light cheeses (courtesy of Dan's dad!) and crumbled them up with some milk in the same saucepan. The mixture was still milk and cheese seperated because I didn't want to double boil it or anything, but when I mixed it with the cooked and strained pasta, it seemed okay. This pasta was good hot, not so good room-temp post refrigeration the next day. Also, I had to eat some of the pasta then and there in order to seal the container. (This was way too much food– I only ate the pasta and was full the rest of the day!)
I also finally got enough courage to eat a kumquat! I got 3 for I think $0.33 (total!) at Wegman's and had Dan try one before I did. I really like the peel, it's sweet, almost candied tasting, but the inside is so sour! It really does taste like a Warhead back from elementary school. What can I say, I'm a sucker for pain.
Danny made the hummus with:
blender
1 can garbanzo beans ($0.99)
lemon juice
water to texture
oregano
garlic
cumin
roasted red pepper
sunflower oil
a bunch of other stuff
I wasn't really paying attention because I was trying to get my cheese to melt-yet-not-burn (fail). The hummus was fine, it wasn't as concentrated or pasty as we like, but it was because we didn't have any tahini/sesame paste. I could really tell that was what was missing, but all in all, it was a pretty quick and cheap snack (not to mention pretty darn yummy). If you want a real hummus recipe, I'll include the one we based it off of, Pioneer Woman's.
Pioneer Woman's Classic Hummus

3 14.5-ounce cans garbanzo beans, rinsed and drained
1/3 cup plus 1 tablespoon tahini
3-4 cloves garlic, chopped
Juice of 1/2 lemon
½ teaspoon ground cumin (may add more to taste)
3 to 5 tablespoons cold water
1 tablespoon olive oil
Salt to taste
Fresh basil or Italian parsley

Combine chickpeas with all ingredients, except water and olive oil, in a blender or food processor. Pulse until mixture becomes somewhat smooth and combined, but do not overmix. Add water as necessary to facilitate blending. At the end, add olive oil and pulse no more than three times, just to incorporate.

Pour mixture into a bowl and stir to ensure mixture is combined. Serve immediately or refrigerate for up to three days in the fridge.
Below are some close-up shots of the components.