So I recently remembered when I lived with a foreign exchange student here and she made us Omu Raisu one morning. I didn't remember anything more than ketchup and rice, and it took me two tries (and some research) to get a recipe I liked. Of course, you can put anything you want in your omu raisu–it's a great dish to use up leftovers!
Omu Raisu

– cooked rice (I used leftover from last night's dinner)
– ketchup
– vegetables of choice (negi, onion, cilantro, peppers, etc)
– protein of choice (I used 3 chopped up slices of left over filet mignon, but you can use fish, tofu, or deli meat).
– oil or butter
– 1 egg
– soy sauce or okonomiyaki sauce (optional)
Heat up a pan (I used a wok) and add small amount of oil or butter. Add rice and toss around pan for 1 minute. Add protein and vegetables until all are warm. Add ketchup until lightly colored (or as much as you want).
Slightly butter the egg pan. While butter heats up, whisk the egg. Thin it out with chopsticks and you can add soy sauce or okonomiyaki sauce or pepper to taste. Put in pan and allow to cook. Once done, take rice out of pan and place on plate. Organize in neat mound and flip the omelet ontop. If desired, split the top open and decorate with ketchup. If you want to encase the rice inside the omelet, use two eggs and a larger pan. Lay the egg flat, fill with rice, and flip over, then cutting. (This is a good way to keep food separated in bento).
Below are pictures of my two omu raisu.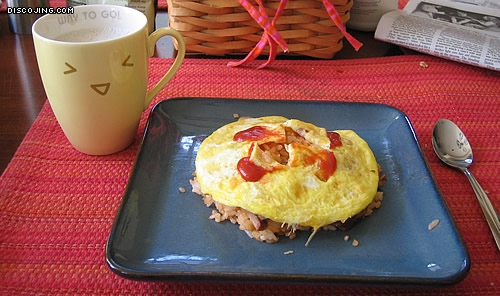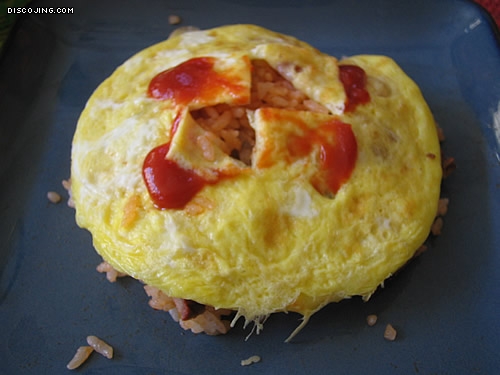 it was easier for me to flip it on top of the rice, but next time I'll try to make a 'real' one.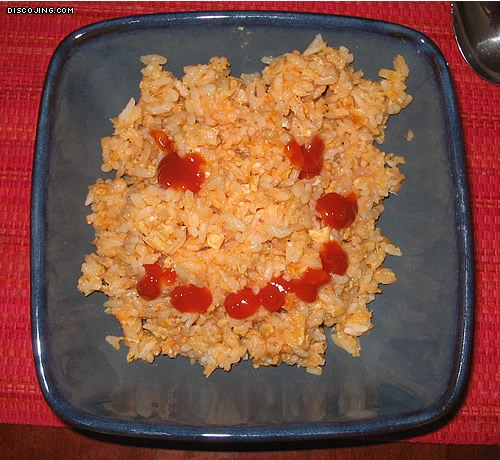 this one was the failed one, by the way.