After reading this article in the Washington Post Weekend section (7/25/08), I decided to try this restaurant. Before, the only time I had Indian food was at a tried and true restaurant called Minerva or when the occasional Indian-inspired dish popped up at an otherwise non-Indian restaurant. We ordered the recommended chat-papdi appetizer (steamed potatoes and garbanzo beans over flour chips with a yogurt, mint and tamarind sauce), and were sadly disappointed. It had way too much cilantro and it ran all together like a watery, eggy, mixture. It was too sweet and too spicy at the same time. The service crackers were also too spicy for me and had an odd taste to them, with pockets full of not-so-good flavor and served with two sauces (a diluted syrup and a cilantro paste). Our entree was the Lamb Biryani (since we've had biryani before, this was a good dish to measure by). This was enough food for two people (therefore making the appetizer not essential) with food left over. The lamb was cooked in consistently though. Half of the pieces were moist and delicious, but the other half were spongy, flavorless, and took minutes to chew. The rice itself was the star of the dish. Scooped up with some flaky naan, this rice, each grain itself, had a flavor, not to mention the flavors that were mixed into the rice and with the lamb. I would have preferred the egg to be mixed with the rice as well, and as a result, it remained mostly uneaten.
Jaipur's decor leaves much to be desired (pink walls, too-dim lighting, plates with their name on it, and decorations all over the place), and the service is so-so (helpful on describing dishes and sauces, but took several visits to clear plates and empty baskets). Overall, this is a typical shopping-center-restaurant experience. Maybe their lunch buffet is better, and maybe it's better to come as a group (I know we were seated next to a tipsy, raucous bunch that thought it necessary to place all their calls on speaker phone), but I will not be visiting again.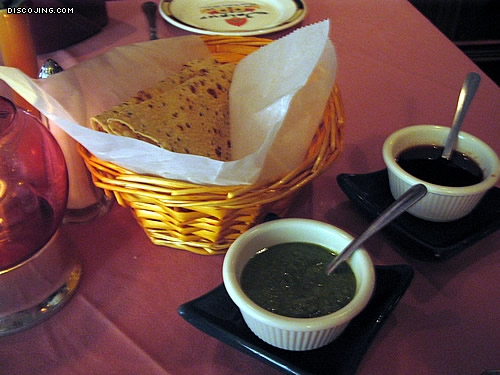 From Zagat:

You "won't regret your trip" to this "jewel of North Indian cuisine" that's "surprisingly good considering its location" "tucked in the bottom of a high-rise apartment complex" in Fairfax; enjoy a "romantic dinner for two" in "lovely" (if "very pink") rooms "filled with Indian art" and attended by "particularly accommodating" staffers, or else go for the "ridiculously delicious and cheap lunch buffet."
Food: 23, Decor: 20, Service: 20, $24
9401 Lee Highway (Circle Woods Drive), Fairfax, Virginia 703-766-1111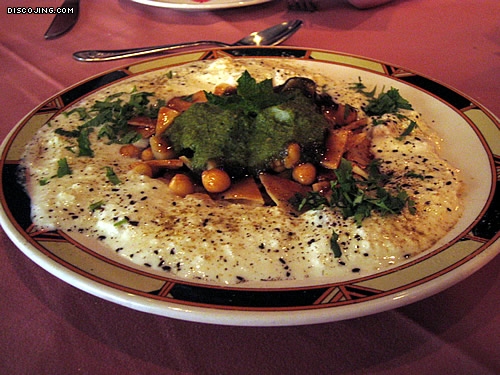 More pictures in the full entry.