http://www.vosgeschocolate.com

Rating: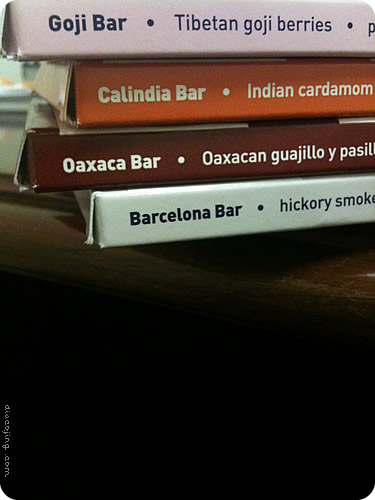 I wanted to give Vosges another try, determined to find at least one more bar that would keep me entertained or justify their price tag. The Red Fire bar was good, but not $7.50 good. Fortunately (or unfortunately?), I spotted some interesting flavors at my local Wegman's and picked them up. Flavors I still haven't tried: Dark Bacon Bar, Black Pearl, Creole, Gianduja, and Matcha.
Goji Bar

This bar was also recommended to me as a must-try. Promising, since I do like Goji berries (the one time I ate them), and usually simpler is best when it comes to chocolate. Unfortunately, this fell a little flat. Instead of complementing each other, the sweet goji and Himalayan salt just cancel each other out, leaving just the 41% milk chocolate, which is too sweet (website says 41%, package says 45%). When left to melt on the tongue, the goji does provide texture–not flavor– and the pockets of salt make this bar taste more nutty and less fruity. If this is a Goji bar, shouldn't I taste the goji? I think this should be renamed to the Pink Himalayan Salt Bar. Maybe it will taste better if I pop it in the fridge before eating…
Calindia Bar

Out of all of the bars I've tried so far, this was the one that had the most going on. It smells strongly of cardamom (similar to the Naga Bar in smell), but has much more flavor and texture. The bad thing about this bar is that it has so many physical elements in it (walnuts and dried plums) that I don't think they are distributed evenly. The 65% chocolate straddles the fine line between sweet and bitter, but tastes are hit or miss. The first taste had large, leathery chunks of plum that refused to leave my mouth minutes after I was finished with the chocolate. The walnut is overpowered by the cardamom and plum in flavor, texture, and aroma. After some editing, this bar could be quite good, but for now it's a tad too floral and tastes like chocolate-y potpourri.
Oaxaca Bar

I thought this bar was going to be just like the Red Fire, but darker. Unfortunately, the chocolate itself turned me completely off. In fact, I think I might just refuse to take a second bite. The chocolate itself is only 75% cacao, and I've had 82% and been perfectly happy with it. Instead, I think it's the type of cacao used (Tanzanian) and the flavors paired with it. I couldn't get past the overwhelming dryness and chalkiness to taste the chiles, and unfortunately, this bitterness stayed in my mouth almost an hour after I tasted it. I also didn't get the pleasant, mild burn from the chile like in the Red Fire.
Barcelona Bar

This was the most disappointing bar that I've tried so far. There wasn't anything really interesting (good or bad) about it. In fact, it tasted just like a Godiva Milk Chocolate Almond / Hershey Almond Bar. Well, not as bad as Hershey. I don't really remember what that tastes like anymore, but still–this bar is plain. There is nothing "exotic" about it at all to my taste buds. This would be a great find for people that like a little more salt in their chocolate/nut combos, so give it to European friends or people that will nostalgically declare this reminds them of the chocolate they nibbled on in the Mediterranean x-amount of years ago.
Woolloomooloo Bar
My friend let me take a hunk out of her semi-melted Woolloomooloo Bar one evening. She had bought the Woolloomooloo with me when I had bought the first batch at Teaism in Penn Quarter. Since it was partially melted, I can't fully judge it, but it was just alright. I don't care for milk chocolate, so it was too sweet for me. I also didn't get a sense of the depth of flavor that's advertised on this bar. The salted macadamia nuts were plentiful and gave a nice crunch to the bar, but where was the coconut and hemp?