http://www.vosgeschocolate.com

Rating: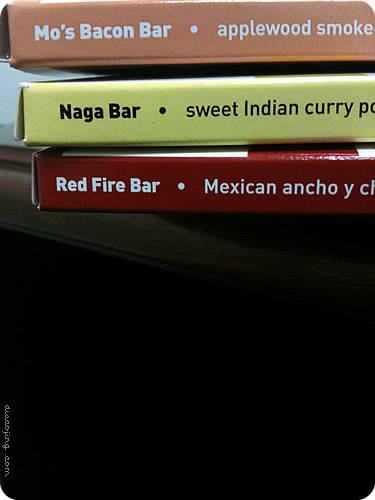 These chocolate bars are for true chocolate lovers. You've already established the fact that you like chocolate, now it's time to test the limits of your love. I picked these up at Teaism, a local tea shop that I visit from time to time. At $7.50 each, they're definitely an indulgence, but this one bar can last you weeks or months–a little square per day is enough. They are also available for sale online, and in mini form (much better for sampling). I plan to visit their store in New York City soon as well.
Mo's Bacon Bar
You would think bacon and chocolate would be tasty. Syrup and bacon, peanut butter and bacon, these combinations all taste good. But I don't like this. I had heard from a blog that I follow that this bar was not the delicious-ness it advertises to be, but the cashier at Teaism convinced me to try it after she stated it was her favorite.
The chocolate was rich, sweeter than I prefer since I like my chocolate dark and bitter. The bacon role of this bar was filled with rubbery bacon bits that did not blend together with the chocolate. I would imagine that the correct way to have this combination would be freshly sizzled bacon dipped in warm chocolate left to ooze on the plate. This way, the flavor of the bacon would take center stage with the chocolate merely accenting and complementing it.
Naga Bar
Coconut, curry, and chocolate also seemed like a natural, delicious combination as well. Instead, it tasted more like a mistake. The texture was nice and smooth, but the taste was reminiscent of a TV dinner whose dessert spilled over into the compartment reserved for the entree. Beside the fact that someone apparently dumped some curry powder into the mixing vat while passing by, I think this bar would benefit from being comprised of a darker chocolate. Maybe then the strong flavors that didn't quite flow into each other would be more balanced. I'm glad I tried it, but it's not good enough to warrant the price tag or a re-purchase.
Red Fire Bar
This one was my favourite of the bunch. The milk chocolate had the depth and richness that I love of dark chocolate without the bitterness. Instead of having separate chapters of flavor that opened and closed independently of each other (see: stupid bacon bar I bought against my mind's objections), the flavors of chocolate and spice blended perfectly. The chocolate prepares and coats your mouth for the spice, which lasts even as the chocolate is going down your throat.
I could tell that this balance of sweetness and spice was orchestrated by an arduously tested formula. I'm not sure if I'll buy this chocolate again for personal consumption, but this would work great if incorporated into baking or another meal.