Aug 31st – These are some of the leftovers from making the special fashion show bento on Sunday. On the left is some okonomiyaki-takoyaki balls with Remy's brother from Ratatouille sticking out. The red container behind him holds the different sauces (kewpie, okonomiyaki, bonito flakes). The smaller picture to the left shows the okonomiyaki all dressed-up and ready to eat. On the left is a char siu bao (nikuman in Japanese) and some pieces of a brownie cake cookie thing I picked up from the local Korean bakery.
Sept 1st – A plain turkey and roasted-red-pepper-hummus sandwich and some chex mix to snack on.
Sept 2nd – These were leftovers from a great meal I had the day before with my friend Stephanie. Stephanie needed cheering up from her horrible job so I brought a goodie bag and we went out to eat at a local Indian restuarant named Jaipur. We had ordered Paneer-Pakora, Garlic Naan, and each an entree (chicken for her, lamb curry for me). I also ordered some naan and Kadhai Chholey to go for my boyfriend with like three containers of mint chutney. As you can imagine, we both went home with bags full of food and I used them to make lunch for me and my boyfriend. My Ms. Bento holds some rice and Rarah Maas with some garlic naan on the side. White bean and walnut manju for dessert and chai tea to drink.
Sept 3rd – Another plain turkey and roasted-red-pepper-hummus sandwich and Shilla brownie-bread for dessert.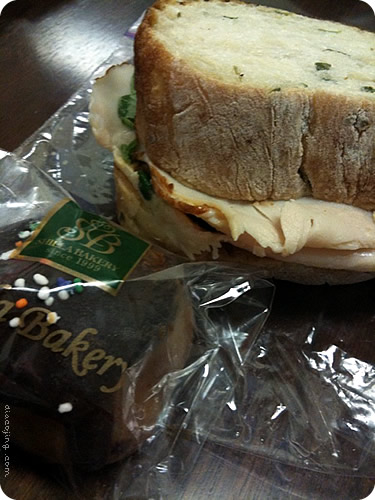 Sept 4th – This isn't a bento, but it's made with all the love leftover from our five year anniversary the day before!The bread is from our dinner the night before at Inox, and has turkey, roasted red pepper hummus and oodles of baby spinach. Shilla bakery coffee manju and a canteloupe yogurt.