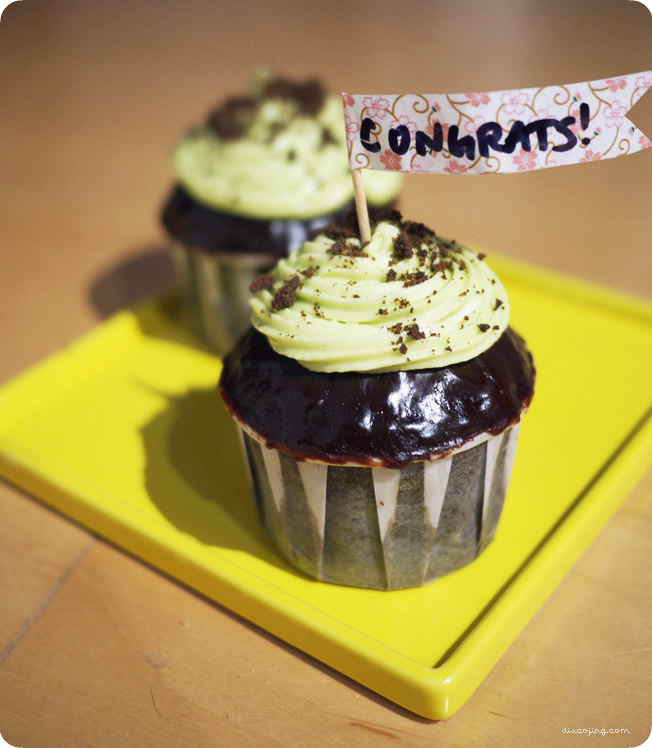 This year, I'll have been a Girl Scout for 20 years. After all those years of eating, selling, and buying Girl Scout cookies, I've never thought to bake with them. The most I've ever done is pop some thin mints into the freezer. I saw a lot of recipes for Thin Mint, Samoa, and Tagalong-inspired recipes on Pinterest and decided I was going to do something creative this year. I can't usually wait long enough to save a whole box for baking, but this time I bought extra and forced myself to wait to make something special with them.
We had a celebration at work for someone's promotion so we surprised him with some treats. I made the little "Congrats!" flag the same way I did on the mini whoopie pies, a toothpick and decorative washi tape.
I used a cake recipe (found through Pinterest) I baked Peppermint Mocha cupcakes with in December that everyone declared "the best cupcakes ever." I then combined two other recipes for the ganache and frosting. Another great discovery I've made is that the perfect vessel for cupcake duo transport is a tea box! I've used this method multiple times to give friends and family two cupcakes and it works like a charm.
Chocolate Thin Mint Cake (makes 24)
2 c. (4.5 ounces) all purpose flour
2 c. plus 4 tablespoons (14.6 ounces) sugar
2/3 c. plus 4 tablespoons (1.5 ounces) Valrhona Unsweetened Cocoa Powder
1 tsp. baking soda
½ tsp. salt
1 c. (2 sticks) unsalted butter, melted and warm
4 large eggs
1  tsp.  peppermint extract
2 tbsp ground Kopi Luwak coffee (sub with instant espresso or instant coffee)
1 c. hot coffee
1 ½ c. chopped Thin Mint cookie crumbs (sub with grasshopper cookies)
Preheat the oven to 375. In the bowl of a stand mixer, combine flour, cocoa powder, sugar, baking soda, and salt. Add the melted butter, eggs, and mint extract and beat on medium speed for about a minute and half. Scrape the sides of the bowl and add the coffees and beat until the batter is smooth. Fold in the cookie crumbs. Fill cups 2/3rds full; depending on the size of your liner you may yield less than 24 cupcakes. I use larger liners also called mini souffle cups, so this recipe yielded about 21. After inserting the cupcakes into the oven, change temperature to 350 degrees. Bake 18-22 minutes until a toothpick inserted into the center comes clean. If on the border, under-bake the cupcakes since they will continue to bake a little bit after coming out of the oven. Set on a wire rack to cool before dipping in ganache.
Dark Chocolate Mint Ganache
4 oz Valrhona dark chocolate chips
½ tbsp. unsalted butter
½ c. heavy cream
1 tsp. mint extract
Place the chocolate in a small bowl. In a saucepan, heat the butter and cream until steaming, then add the mint extract. Pour the mixture over the chocolate and let stand 3 minutes. Stir the chocolate until smooth, then let cool 5 minutes. Dip the tops of the cupcakes in the ganache, then let cool for at least 1 hour before frosting.
Mint Cream Cheese Frosting
4 oz. softened cream cheese
½ c. butter, slightly softened
8 oz confectioners sugar
1/4 tsp. mint extract
2-3 drops green food coloring
1/8 c. Thin Mint Cookie crumbs for garnish
Mix together the room temperature cream cheese and butter until combined and fluffy. Add the powdered sugar in small batches until frosting is smooth. Add the mint extract and food coloring and mix until incorporated. Frost cupcakes with frosting and sprinkle with cookie crumbs.