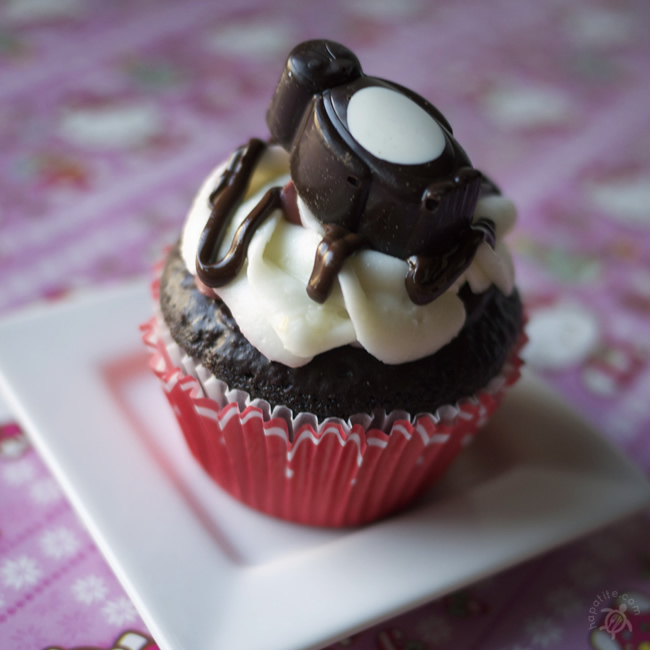 I made these cup­cakes last year and they were gone so quickly that I didn't get a chance to take pic­tures. Luck­ily, every­one loved them (some peo­ple ate two!), so I knew what I was going to make when it became pep­per­mint sea­son again this year. I love pep­per­mint mocha lattes and get them when­ever I get a chance. I've had the ver­sion from Star­bucks, but I actu­ally pre­fer one made by a local smoothie shop called South Block where they have tons of alter­na­tive milks. I get my pep­per­mint mocha with almond milk and Intel­li­gentsia espresso and it hits the spot.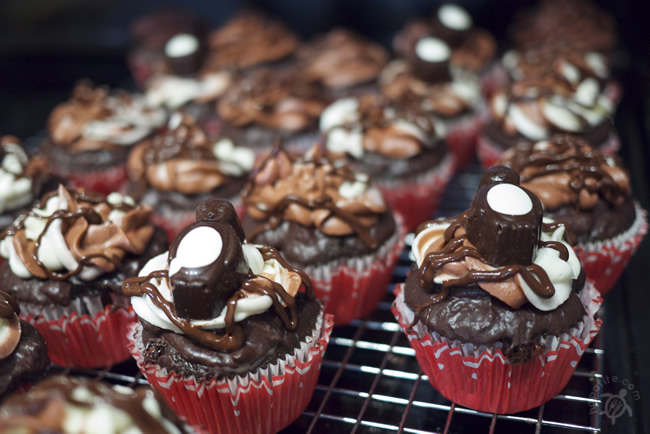 This year I upped the deca­dence and dipped the cup­cakes in a dark choco­late mint ganache before frost­ing them. The secret ingre­di­ent in these cup­cakes is the type of cof­fee I used in it. Instead of using reg­u­lar cof­fee, I used some very spe­cial Kopi Luwak that my friend Elly gifted me. For those that don't know, Kopi Luwak is a rare and expen­sive cof­fee that is made from cof­fee berries that a trop­i­cal jun­gle cat has digested. Some peo­ple were a lit­tle put off by the idea of cat-poo-treated cof­fee, but sur­pris­ingly, most every­one embraced it and loved the quirk­i­ness of it.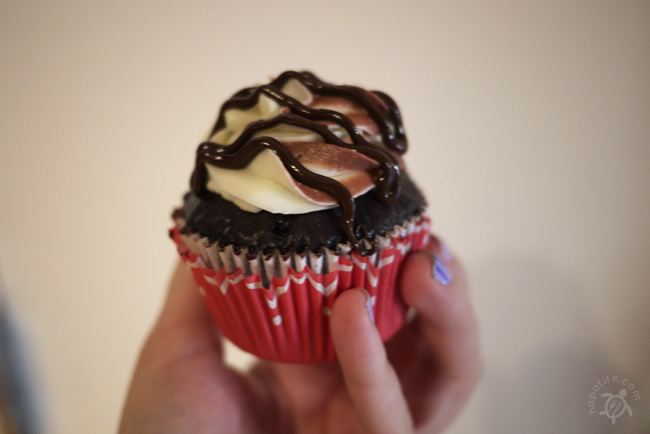 I used a few dif­fer­ent recipes com­bined together, and the end result leaves noth­ing to be desired – this really is an edi­ble pep­per­mint mocha! Coffee-infused choco­late cake with mint pieces folded in, dark choco­late mint ganache, a mint cream cheese frost­ing, and a choco­late driz­zle. Some lucky snack­ers picked some out that had mint choco­late pen­guins on them that I pur­chased from my Girl Scout troop.
I also tried some­thing new with my Martha Stew­art cup­cake lin­ers. The lin­ers look pretty, but bake hor­ri­bly! To solve this prob­lem I lined them with a white liner before putting the bat­ter in and was very pleased by the result.
Pep­per­mint Mocha Cupcakes

By nicole Pub­lished: Decem­ber 27, 2012
Yield:

24 cup­cakes (24 Servings)
These treats are a chew­able ver­sion of the pop­u­lar hol­i­day drink. Coffee-infused choco­late cake with mint pieces folded in, dark choco­late mint ganache, a mint cream cheese frost­ing, and a choco­late driz­zle. Cake recipe adapted from Bak­ers Royale
Ingre­di­ents
Instruc­tions
Pre­heat oven to 375 degrees.
In the bowl of a stand mixer, com­bine the flour, cocoa pow­der, sugar, bak­ing soda, and salt.
Add in the but­ter, eggs, and vanilla and beat on medium speed for one minute.
Add half of the cof­fee into the mix­ture and beat for 20 sec­onds. Scrape the sides of the bowl and add remain­ing cof­fee. Beat for 20-30 sec­onds until the bat­ter is smooth. Fold in chopped Andes. The bat­ter will be thin enough to pour.
Pour the bat­ter into 24 cup­cake lin­ers and insert in to the oven. Change the tem­per­a­ture to be 350 degrees after the pans are in the oven. Bake 18-22 minutes.
Allow the cup­cakes to cool in the pan. Once cool, dip in mint choco­late ganache.
Let the ganache set for at least an hour before frost­ing with mint cream cheese frost­ing. Driz­zle with choco­late or gar­nish with crushed pep­per­mint candies.