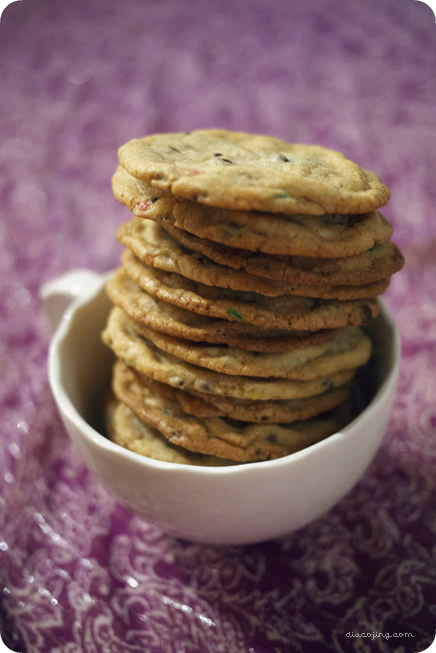 I used to have a feature on here called "Show and Tell" where I would share a few of my favorite things found on the internet that  caught my eye. After a few installments, I found out about Pinterest. It basically accomplishes the same thing as my feature was and it's a one-stop-shop to 'pin' things that inspire you, or to remind you to make those recipes that you see floating around the internet. The great thing about it is that you can share or 're-pin' things on it very easily and it always keeps a main picture and original source link.
I introduced my sister to Pinterest and she found about about these Funfetti cookies and shared them with me! Before meeting up with my sister for an event we put on together for local Girl Scouts, I made these as a surprise treat for her.
These cookies use funfetti cake mix, but you also have to add flour, eggs, butter, and… wait! It sounds like I'm making cookies from scratch? The amount of work needed for these cookies and the fact that they only use part of a box of cake mix makes me think that I won't make them again. They do have that nostalgic "kid's birthday party" taste, but they are a tad flat. The recipe makes a lot of cookies, but I think it would be worth it to double the recipe just to use up the full box of cake mix.
Regardless, my sister was happy and so was my office since they got to eat the leftovers. I ate quite a few myself, so I can't complain too much!  For the source of inspiration and recipe, visit Lovin' From the Oven.