October 11th, 2008
I know, I know. Talk about procrastination. But, I have to write about this "Taste of" festival before I can write about the most recent.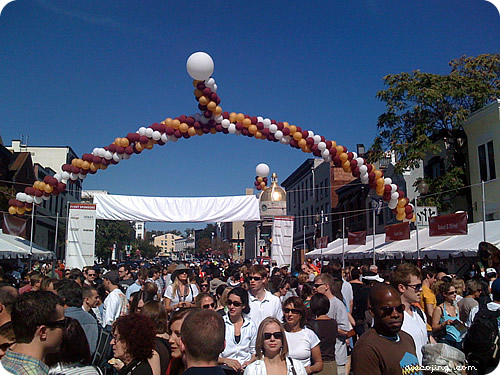 The price of this Georgetown festival was $20 for 5 food tickets, which works out to be $4 a tasting. There were separate tickets/tasting prices for wine tastings. The day was beautiful, and the location was great. The festival was in-between M street and K street by the Georgetown Shops and C&O Canal. Our main strategy was to go only to places that we could normally not afford, or places that were giving out dishes that were a great deal for $4. So, we weren't going to a cupcake place (even though I wanted to) because the cupcake is less than $4, and I'd had all of them already. That's one of those "If we have a ticket left" kind of places. I can't believe people pay $20 for each person! I just shared a tasting ticket (and all "tastes") with Dan. Sure, there might have been one or two other tastes that I would have liked to try, but it wasn't worth busting out another twenty and making the day cost forty dollars instead of twenty.
Another great (and bad for the choosy, only 5 ticket holders) thing was that most places offered two dishes to choose from, and if they were nice, they threw in things such as cookies, or sashimi. Here's a quick run-down of the menu (I've bolded the ones I tried):
1789: Sweet Potato Gratin with Lobster
Agraria: Ancho & Maple Braised Pork Belly with Virginia Spoonbread or Caramel Chocolate Pecan Tart
Baked & Wired: Cupcake and a Cookie (Choice of Strawberry or Chocolare Cupcake with Choice of Peanut Butter or Vanilla Frosting and a Chocolate Chip or Molasses Spice Cookie)
Bangkok Joe's: Pad Thai with Chicken or Pad Thai with Vegetables
Café Bonaparte: Josephine Crepe (Nutelle & Bananas), Last Tango Crepe (Nutella & Strawberries), Moulin Rouge Crepe (Caramelized Apples & Pistachios), or Montpelier Crepe (Caramelized Peaches)
Chadwick's: Chadwick's New England Clam Chowder or Famous BBQ Baby Back Ribs
Clyde's: Butternut Squash Soup
Fahrenheit: Chilled Cajun Jumbo Shrimp, Jicama Slaw or Chocolate Tart
Filomena Ristorante: Ravioli Di Funghi or Ravioli Della Michele
Georgetown Cupcake: Red Velvet Cupcake or Chocolate Cube Cupcake
Hook: Seafood Sausage
J. Paul's Surf & Turf Sliders, aka "One of Each" Classic Cheeseburger Slider and Crabcake Slider or J. Paul's Famous BBQ Ribs Glazed with Chipotle Sauce
La Chaumière: Petit Cassoulet Toulousain or Apple Tart "Normande"
Los Cuates Restaurant: Chicken and Steak Fajitas or Costillas de Puerco "BBQ Pork Ribs"
Mendocino Grille and Wine Bar: Wild Boar and Black Bean Chili or Delicate Squash Soup with Spiced Pumpkin Seeds and Curry Oil
Mie N Yu: Kobe Brisket Rendang or Lobster Miso Soup
Morton's The Steak House: Steak (Filet) Sandwiches
Neyla: Half a Falaffel Pita with Tahini Sauce, Mint, Tomato, and Onion, Chicken Shawarma Sliders, or Mini Pita Stuffed with Garlic Chicken and Pickles
Nick's Riverside Grille: BBQ Ribs, Coleslaw
Old Glory BBQ: Sweet Pulled Pork Slider or Fried Green Tomatoes with Lemon and Cayenne Mayonnaise and Pico de Gallo
Paolo's: Meatball Slider and Parmesean and Arugula
Ristorante Piccolo: Fresh Ravioli Stuffed with Porcini Mushrooms in a Sage Butter Sauce, Drizzled with Truffle Oil or Tiramisu
Rugby Café: House Roasted Pulled Pork Sandwich or Hereford Beef SLiders
Sea Catch Restaurant and Raw Bar: Jumbo Gulf Shrimp Wrapped in Puff Pastry with Bacon and Boursin Cheese
Tackle Box: Chilled Shrimp Salad or Potato Salad
The Guards: Shrimp Tenderloin Brochette
Third Edition: Pulled Short Rib Sliders with Homemade Garlic Pickles and Cheddar Cheese or Georgetown Hot Wings with Bleu Cheese Dressing or Ginger and Lemongrass Chicken Tenders with Drunken Fruit Salsa
Tony & Joe's: Macademia Shrimp Topped with Balsamic Glaze served with Pineapple Mango Salsa
Wine Pavillion: Tarara Winery, Boston Beer Co., Sierra Nevada, Potomac Wine & Spirits, Green Mountain, and Peak Organic
Other: Washingtonian, Washington City Paper, Martens Volkswagen, PNC Bank, Safeway Beverage Booth, FotoWeek DC, Verizon, Driven, Inc., and various events (Tarea Anderson Plus Three, Jacques Johnson & Friends, Grace Jazz Poetry Trio, Judge's Favorites Announces, Blues Alley Youth Orchestra)
As you can see, this is a pretty prestigious Tasting Festival! The dishes all sound amazing, complex, and expensive. It's a great way to decide if you want to go to one of these restaurants if you haven't been, or to try a dish at a restaurant that you have been. My opinions on the dishes I tried:
1789: The gratin came with lobster on top and with a small, airy cookie. The texture of the dish was fine, but neither the sweet potato or lobster flavors were there for me.
Agraria: The pork belly was delicious–a little fatty for my taste, but it is pork belly–but the spoonbread was not for me. Reminded me a little of cornbread. This did remind me of a traditional "Virginia" meal, though.
Café Bonaparte: Usually I hate strawberries and would have gone for the banana combination, but something about seeing the strawberries in person, all syrupy and dripping over a nice crepe made me want to get that one. The crepe itself wasn't that great, but it did make me want to try Bonaparte for other crepes.
Neyla:  I had gone to Neyla before and was not happy with the food or service there, but the falaffel sandwich looked so fresh and flavorful! Turns out the bread was a little hard and I didn't like any of the fillings. Dan ate most of this one.
Sea Catch: I think this might have been one of the best ones! Dan had eaten here before, but I hadn't. We got a wrapped shrimp brochette, but then a little surprise — two pastries filled with beautiful chunks of raw fish! The seafood tasted fresh and delicious.
I also received a free copy of the Washingtonian and free beverages (provided by Safeway?). This is a great, high-class festival! It was so much fun that I can't wait to go back (and I will be) next year!