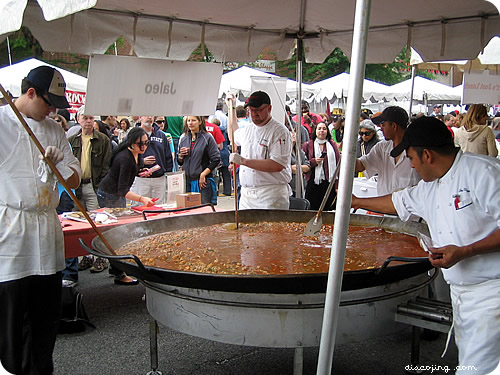 Is it just me, or are there a lot of "Taste of" festivals this year? I've heard of various festivals in Maryland, Crystal City, Reston, and of course: Arlington. After attending the Taste of Georgetown festival last year, this seemed a bit lack-luster. It was set in Ballston, and let's be honest, there's not a great collection of restaurants in Arlington. There were about forty restaurants there (Full list here), and for $25 you got 8 tasting tickets. We could have bought our ticket ahead of time and gotten 8 tickets for $20, but we weren't 100% sure if we would be going to the event. But, for around $12.50 per person, Dan and I got pretty full! We had originally planned to go to El Pollo Rico after the festival, but we got too full!
Even though we got 8 tickets, it costs 1 ticket per taste and 2 tickets per drink (even water), so we brought our own drink. This festival was also geared more towards familys and kids. We had:
Delhi Daba – Channa Masala with Rice
Lebanese Taverna – Chicken Shwarama Pita
Best Buns – Red Velvet Cupcake
Bayou Bakery – Strawberry Shaved Ice with Sweetened Condensed Milk
Me Jana – Hommos and Naan
Restaurant 3 – BBQ Ribs
Liberty Tavern – Grilled Octopus with Fennel, red onion, blood orange, mache/mint salad
Front Page – Crab "Cakes" (Fritters) with Bruschetta
Delhi Daba was great, it was one of the first things we got when we went to the festival, and there was a long line (for a reason). You could choose butter chicken, chick peas, paneer (spinach), with rice or naan. Dan was hankering for some chick peas, so there was no debate. Restaurant 3's ribs were okay. We had gone to Sweetwater the night before just to get ribs, and they were out, so again, Dan was jonesin' for ribs. They were quite fatty, didn't fall off the bone, had a lot of cartilage, and weren't evenly cooked. Lebanese Taverna's sandwich was okay. The chicken fell out and I don't care for tomatoes. Me Jana offered whole containers of hummus with pre-packaged naan. The Best Buns cupcake was about half the size as the normal cupcakes (which I guess are twice the size of a standard cupcake). They had vanilla, chocolate, and red velvet to choose from. I had a feeling they would be dry, so I picked red velvet, which is the moistest cake due to the whole bottle of food coloring in there. The cake was still a little dry in some places, but the cream cheese frosting more than made up for that. Bayou Bakery isn't even open yet (they took over Murky Coffee), but I'll be interested to check them out! They had two different flavors of shaved ice — Wedding Cake (almond) and Strawberry. They packed a lot of ice in to a little Chinese take-out box and then asked me if I wanted "Sweetened Condensed milk floated on top". Uh, yes! Liberty Tavern had strangely un-tavern food with the grilled octopus. The salad didn't look appetizing, but the grilled octopus was okay. It had a slightly rubbery consistency, and no real seafood flavor. We thought Front page was burgers, but it was actually a really fresh and juicy tasting bruschetta with some mushy crab fritters.
All-in-all, it was okay, but it just made me miss Georgetown's Festival! Georgetown is more for adults and there is better food there. You won't see Chipotle or Mall Food Court Ghetto Sushi Places there — and they give out free soda (well, Arlington did give out free yummy Ice Cream Sandwiches!).
Full List of vendors:
Abi Azteca Grill & Bar
Argia's Italian Restaurant
Arlington Career Center Culinary Arts Program
Bayou Bakery
Best Buns
Busboys and Poets
Cafe Pizzaiolo
Carlyle Grand
Chevy's Fresh Mex
Chipotle
Clarendon Ballroom
Curious Grape
Delhi Daba
First Down Sports Bar & Grill
Grand Cru
Hard Times
Harris Teeter (Free Ice Cream Truck)
Jackson's Roasting and Carving
JALEO
La Tasca
Lebanese Taverna
Liberty Tavern
Me Jana
Noodles & Company
PF Changs
Pinzimini
Piola
Restaurant 3
Robek's
Rock Bottom Brewery
Rocklands BBQ
Sangam Restaurant
Shiki Sushi
Teds Montana Grill
The Front Page
The Melting Pot
Union Jacks
Velocity 5
Whitlows
Whole Foods
Willow
Yaku
Beverage Stations: Beer Truck, Curious Grape, Grand Cru, Soda/Water
Other: American Service Center, Arena Stage, Commuter Page.com, Bozzuto Management, Clark Construction, Community Residences, Dittmar Company, First Citizens Bank, Gables 12 Twenty One, Go Out 2 Eat.com, Green Duck Products, It's Just Lunch, Kettler Capitals Iceplex, Leaffilter North Inc, Liberty Tower, Mix 107.3, Monday Properties, National Science Foundation, New York Times Newspaper, Rosslyn BID, Signature Theater, SOS Children Villages USA, SRA Internationam, Synetic Theater, TD Bank, Virginia Commerce Bank, Washington Woman/Washington Parent, Westin Arlington Gateway, WJLA/News Channel 8, World Cafe