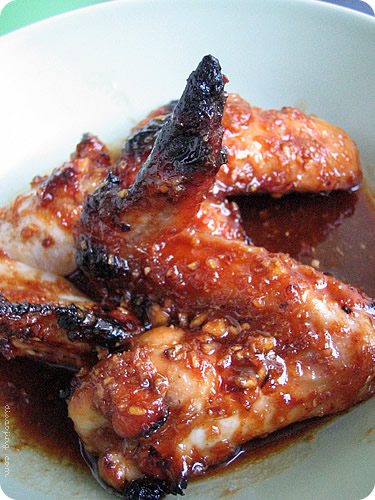 This recipe is adapted from the most recent Gourmet magazine issue (June 2009). I personally think that the name "Peach-Lacquered" comes from the way these wings are cooked–you have to continually tend to them and coat them for about 20-25 minutes. But, I'd say they were pretty worth it.
The ideal side dish to this would probably be a light, dill-laden potato salad, but we started making ours too late to serve with this dish. If making potato salad, either make earlier in the day or the day before (or buy it!). We instead ate it with some delicious sweet corn-on-the-cob (boiled for about 10 minutes), though a light salad, fries, or a pasta salad would work as well.
Peach-Lacquered Chicken Wings Recipe
By nicole Published: May 31, 2009
Prep:

15 mins

Cook:

35 mins

Ready In:

50 mins
Adapted from Gourmet Magazine June 2009.
Ingredients
Instructions
Preheat broiler (I recommend first half of cooking on high and second half on low heat).
Add preserves, soy sauce, water, chili powder, and hot sauce to the ginger/garlic mixture and combine. Pulse a few times in blender if mixture is too chunky.
Line the bottom and sides of a large 4-sided sheet pan with foil and lightly oil foil OR lightly oil (read: spray with light cooking oil) a disposable aluminum foil pan.
Pat wings dry and put in sheet pan. Season with 1/3 tsp salt. Pour sauce over wings and toss to coat, then spread in 1 layer.
Broil wings 4 to 6 inches from heat 5 minutes, then turn over and baste with sauce from pan. Continue to broil, rotating pan and turning and basting 3 more times, until chicken is cooked through and browned in spots, 20 to 25 minutes.