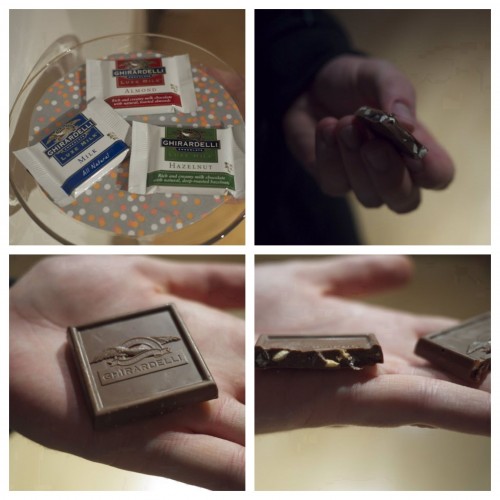 As part of the Foodbuzz Tastemaker Program, I received three squares of Ghirardelli Luxe Chocolates to sample — one each of milk, milk with almond, and milk with hazelnut.
Ghirardelli touts that these chocolates blend the finest cocoa beans, whole milk, cocoa butter, and vanilla to "create a rich and creamy chocolate experience like no other".
I snapped the chocolate in half, rubbed the chocolate between my fingers, and smelled. The aroma was nutty and sweet on the hazelnut and almond flavors, but the milk smelled like regular milk chocolate. All the squares tasted creamy and there were no large sugar granules to be found like in lower-grade chocolates, but this difference may have been noticeable because 1) I was looking for it since it was advertised and 2) I used to work as a choclatier.
These were great, indulgent snacks, but they weren't much better than regular Hershey's or Nestle chocolate, especially for the price difference.