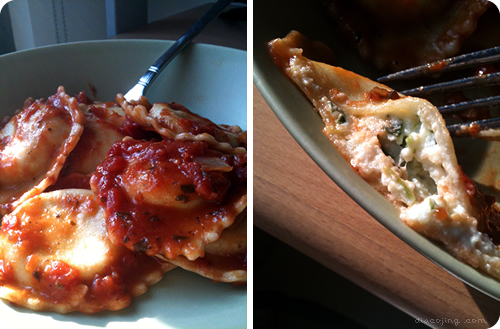 In July I received a nice, shiny coupon for a free "Buitoni Frozen Meals for Two" package as part of the Foodbuzz Tastemaker program.
I didn't see Buitoni meals in the freezer section at first, then realized that it just looked exactly like our local Wegman's "Italian Classic" generic brand and grabbed a package. Out of the available options, I chose the Four Cheese & Spinach Ravioli.
A few days later, we cooked the pasta and sauce according to the package directions and plopped ourselves down to eat. The pasta tasted alright, though a little bit soggy. As is the case with all frozen pasta, the flavors were a bit muted in the filling. The spinach was basically just for decoration, not for taste. The sauce was alright as well, though too sweet for my tastes.
At the check-out register, I remember the frozen meal being around $8. While this does feed two people, I could see some people being left hungry. I also think that this is a fairly easy meal to make yourself for much cheaper. Cheese Ravioli + Pasta Sauce? That's one of the cheapest, easiest meals to make, and I didn't see a big flavor payoff to justify the price increase.
Thanks Buitoni, but I don't think I'll buy these again!
Below is a picture of the product from their website, for comparison.